Bad Habits That I Slowly Avoided
Blog #197
March 25, 2022
In the past two days, I got sick, and being in that situation was not easy, especially since I have kids to take care of. Now that I'm feeling okay already, I realize that I should be extra careful with my health.
Taking care of health is important and one way of caring for our health is to slowly avoid the bad habits that can stop us from achieving a healthy lifestyle.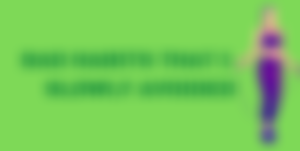 Bad Habits That I Slowly Avoided
Not Drinking Enough Water
Water plays an important role in our bodies. It keeps our body hydrated and it also prevents our skin from getting dry that's why drinking water is really important.

Honestly, in the previous months, I neglected to drink enough water every day. I sometimes just consumed 4 to 5 glasses of water before. It's an unhealthy habit since adult women need to consume 9 glasses of water every day according to the study of the Institute of Medicine.

When I started doing my workout this month, I slowly start consuming more glasses of water every day since someone also suggested that it can also help in losing weight.
Someone had told me before that if I want to lose weight, I should not eat food after 7 PM.

So what I did is to prepare early for our dinner so that when 6 PM hits, we can eat our dinner. That's what I have been doing ever since my partner works far away from us.

Before there were times that we ate our dinner at 8 or 9 PM or sometimes I would take midnight snacks, maybe that's the reason why I get fat fast.
Not Getting Enough Exercise
I admit that when the modular learning of the kids had started this school year, I neglected to get exercise. My reason was that I'm busy tutoring with my kids and house chores. But to be honest, if I wanted to exercise, I can spare time for that but I let my lazy self take over me. That's why every day, I'm getting fat and my other clothes can't be fit already.

Last month, when I learned that those others clothes hadn't worn anymore, I decided to get back to getting exercise again and that is my goal this month and in the next coming months. As of now, I am slowly seeing the result of my workout.
Taking More Cups of Coffee in a day
Before I can consume more than 3 cups of coffee a day and most of it are those 3 in 1 coffee.

But now, I only take 1 cup of coffee, or sometimes I didn't have one. The coffee that I take is not the 3 in 1 coffee anymore instead it's the black coffee or sometimes the native coffee "ground corn". When I prepare the black coffee, I didn't put sugar on it. It tastes bitter at first but as days pass, I get used to it.
Having a healthy lifestyle is so important because it helps us to save money. In my previous experience since I take more coffee in a day, I always spend money buying 3 in 1 coffee but now that I lessened my coffee intake, I just spend $1.5 in a month.
Having a healthy lifestyle also lightens one's mood and makes the body feel better. Getting exercise and sweating a lot after makes my body relax and better.
---
Previous Articles Published:
Prompt Accepted: My Pregnancy Journey With My Four Kids
https://read.cash/@BCH_LOVER/prompt-accepted-my-pregnancy-journey-with-my-four-kids-1bf168fe
I'm Feeling Unwell Because of Tonsillitis
https://read.cash/@BCH_LOVER/im-feeling-unwell-because-of-tonsillitis-5119872e
Thank you so much to my dear sponsors who stays with me up to this moment. Thanks for your support and trust. I prayed and hope that God will bless you more.
To those who take time to read my articles, leave an upvote, comments, and likes on my published articles, a million thanks to all of you. This is me, 🧕BCH_LOVER 🧕once again. Thank you for your time today.
God bless and Keep safe you all!
Before leaving, please hit the 👍button. Thank you so much!