9.25 GB My Data Consumption: What Apps Consumes Data Most?
Blog #250
May 19, 2022
Reading other published articles would give us an idea of what to write next and I'm grateful for it because it saves my day when I have nothing in mind to write about.
Last night, I have read @DennMarc's article about his Data Consumption. After reading his article, I immediately checked mine and decided to write about it too today. (This article is my second published article for today. I have promised myself to cover those days that I haven't published one so I could still complete my month with 31 articles. I still have 3 more days that hadn't been covered so if I will publish this, there are two more to go. I will go to cover it in the next few days so I still accomplish my goal for this month.)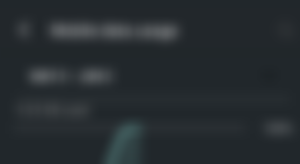 Upon checking my data consumption, I had known that I consumed 9.25 GB already. It's lesser compared to the previous months maybe because there were days that I didn't use any social media accounts or any browsing apps or sites because of no or slow Internet connection.
With those 9.25 GB, what apps consume data most? Without further ado, let's reveal those. The list would be from top 1 to top 8 apps.
One: Tiktok
Tiktok would be number 1 one on the list because when I felt bored, this is where I stayed the most. I am watching short video clips of CDramas, Turkish Dramas, K-Dramas, and others are those funny content that attracted my eyes. I sometimes watched short video clips of mukbangs and talent competitions in Tiktok. Whenever I stayed in that app, my boredom would be gone.
Two: Chrome

Chrome would be second on my list because noise.cash and read.cash is open on that browser. Other than that I also have other online earning sites open in that browser. Those airdrop forms that I had joined on Twitter are also open in that browser so as expected, it would consume more data. I also sometimes did some research in that browser like learning Arabic. I am determined to read and write Arabic so I am always searching for it in Chrome. I would also use this browser when I had to translate a language that isn't known to me.
Three: Youtube

YouTube is always been open in these past few days especially since I let my kids watch "Kwentong Pambata" so they wouldn't mess around the house. I'm so busy with lots of chores these past few days so I just let them be busy with kids' stories on Youtube.
Four: Messenger

I wouldn't be surprised if this belongs to the top five apps that consume data most because, in the first week of this month, messenger was the most used messaging app. I used it to message my family in Cebu and I also used to Video call my partner when he was far from us.
Five: Free Bitcoin Cash

Number five on the list is Free Bitcoin Cash. I guess some knew about this app or if not, this app is an app that gives free bch. Users can claim Satoshi every hour and if they meet the withdrawal amount, it will be withdrawn automatically to their wallet every Tuesday.
Six: CryptoWord

CryptoWord is the sixth on the list because it's a game that has ads when played and I knew watching advertisements would really consume more data. I have been using this app for the first week so I could withdraw again and I did. Right now, I haven't played this one but maybe I'll consider playing this one again the next day so I could withdraw again.
Seven: YouTube Music

I don't have any music downloaded or save on my device so every time I want to listen to music, I would open Youtube Music and this is where I listened to my favorite songs.
Eight: Shareit

Shareit is a paying app that I have joined but the points earned here can be redeemed through mobile loads only. Watching videos is one of the ways of earning points here so it would really consume data but not big as those other applications since I'm not always watching videos in this app.
Closing Words:
Those are the list of the apps that consumed more data this month. Before ending this article, I want to thank @DennMarc for giving me an idea of what to share today.
Thank you my dearest sponsors for the continuous support. I really appreciate it and I hope and pray that your wallets will be filled with more blessings. God bless you all.
Special thanks to sis @Danika for being my new sponsor. Thanks a lot, sis. This is me @BCH_LOVER once again. Thank you for spending time reading my article today. Have a good day and a blessed evening read.cash family.
Thank you. Keep safe y'all!