Music- the literature of the heart.
"Music expresses feelings and thoughts without language;it was below and before speech and it is above and beyond all words"- Robert G. Ingersoll.

" Music is the literature of the heart; it commences where speech ends"- Alphonse de Lamartine.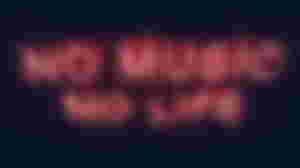 This is what I do most times, listening to music is a way to get rid of sadness at the moment, sometimes even when I'm angry, like when I know I can say something bad whenever I'm angry I will just switch it to music,open the music app on my phone and listen to whatever music I want to listen to at the moment.
Music commenses where speech ends is so true, music is life,it makes a sad person joyful,makes dull moment becomes lively moments,it also expresses what the heart says, either it's love or hatred,you can decide to listen to some music and people around you will know what is wrong with you without even words, without telling them anything at all. Music is good way to express your thoughts.
There is music about love ,ololufe in my language.
Moti reni keji mi,eni bi okan mi,mofe rajo ife,efa mi lowo Dani,Koko ife gbe wa lo,girl I can't live without you,ololufe mi ye e ye e.
The interpretation of this song is that I have seen my second half,the one of my heart,I want to go on a journey,hold my hand so that the car of love will take us through the journey,that is the meaning of this song and it shows how much you love someone anytime you sing it for someone or you listen to it yourself. Whenever you are in love it expressess more without you even saying anything at all. This particular song I love it like anything,I love listening to it especially when I was in love,chaiii....I like listening to it,it makes the moment great and wonderful, and expressess how I feel at the moment,there are times I will even compose song just to make the moment more great,music gingers,it channels happiness to one.
There are sometimes too that you listen to sad music probably because you are sad so you can feel more sad😂,yes it actually happens, things like this happens, sometimes instead of you to listen to a joyfilled song,you end up listening to a sad song that might even make you cry,at that point it's actually expressing your thoughts to the people around without words.
Music can heal from bad energy or feelings,learn to always listen to music anytime anyday and you will be fine.