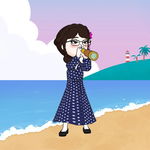 Having that emergency last Monday, but haven't been able to attend to it immediately, we decided to let my Mum set off early on Tuesday morning, which was yesterday. I was busy with my work here yesterday that I have only got some break around 10 am. I immediately called at home if my Mum have already set off and they said that she left at 6 am. I called Midwife C's nephew to pass on the news and he confirmed that my Mum had reached there already. It was a sigh of relief when I knew that.
As I checked my Messenger if I got messages from other concerned relatives, I saw my Gramps' younger sister online. I send her a message telling her the news that my Gramps was admitted to a facility and other details regarding my Gramps' health condition. I just thought that I should let her know since she is one of my Gramps' siblings. I don't have her contact numbers and neither of their other siblings. We were not also close, never been on good terms to be exact, since I was a kid. My Gramps funded her education when my Mum and my late Uncle were still kids. My Mum said that they were always short on a household budget because my Gramps' sister often asks for school allowance at him.
Since she graduated from college and has a degree, no idea what degree she got, though. She found a good job and have a good life, then became a classy person. Every time she saw us or my other cousins in the countryside, I can often see how she looked down at us. She even took one of my cousins and offered a vacation at her home in the city, but during my cousin's stay there, she just treated my cousin as her maid. I have also experienced that, offering me that she will fund my education as long as I stay with her there. I have worked hard every day just to gain a little, and she is insatiable. She wouldn't be satisfied with everything I do, and a great perfectionist, indeed.
There's that attitude of hers that I hated the most, and made me lose my respect for her, though. That side of her who straightforwardly degrades us anywhere and anytime, can't even wait to shout at you after you got home. Well, that's why I hate her, nah, not just me but every one of us including her children and grandchildren. Maybe, except for her siblings because they seem to be close every time or it was just how I see it.
So back at when I message her...
She responded after a few minutes. I didn't expect a nice reply from her but what she told me in her replies made me boil my blood for more. I can feel my blood rising that made me grit my teeth and clench my fist just to restrain myself from talking back rudely at her. Who wouldn't get pissed when she said it this way,
"So, can't you think of anything useful to do there? Go f*** him to get better."
Really? She thought that she is an educated and classy woman in that state? As an elder, she is talking back sarcastically and spits out curse words. Wtf, for real. If not for my Mum telling me not to talk back badly at her, I was really up for a good fight even though she is my elder.
I just ignored her then, and calm myself down. I averted my attention by doing my other tasks to forget them in a while. It was noon when I remembered to check on my Mum, but since she doesn't have a phone because she can't see the letters and she's not fond of gadgets, I just called Midwife C to check for updates. Midwife C said that my Mum was there in front of her, disappointed. She said that my good classy grandma had claimed my Gramps in the facility and already signed a waiver to discharge him. She added that my classy grandma had already left with my Gramps to send him to our hometown.
Another tension had risen in my veins, she didn't even notify us. My Mum just wasted transportation fare for nothing and went back home empty-handed. Then, just a few moments passed, my classy grandma contacted me again asking where was my Mum and why she hasn't arrived at the facility yet. Well, I just told her that my Mum went home because she already released my Gramps at the facility and she had already taken him back to our hometown. Hearing it, she cursed and cursed in anger. She said that it was just the plan that they told Midwife C.
I don't know if I should supposedly felt this but I'm silently rejoicing to hear her in dismay and anger. It's not my fault that she didn't say it clear to Midwife C that it caused a misinterpretation between them. She finally accepted her fault and ends the call. I didn't bother to contact her until now. Well, she had found a way to transport my Gramps to our hometown, though. She called our relative who is living near our home to tell my Mum that they arrived at the highway and they needed a Carabao sled to carry my Gramps to our home at the core of the countryside.
The network connection is poor at our home, so I didn't manage to get through them that night. It was just enough that I had known that my Gramps is well now. The doctors said that he just needed thorough care and on-time taking maintenance medications. I'm so happy to hear that good news and have good sleep last night.
Just this morning, something came up that made me laugh so hard. My elder brother said that my Classy Grandma is shopping for fruits and vegetables in our backyard for free. She even films a vlog around the area. Then, she demanded to deliver the fruits and vegetables to the highway where buses pass by, JUST FOR FREE. I just knew that she even slept at home. Just after she said that rude statements to me, she slept and shop fruits at my home. The audacity she has, LOL. 🤣 That great sigh of relief when she finally left our home.
---
Everything is fine now. Thanks to all of your prayers, my beautiful readers. I greatly appreciate all of your support. By the way, A BIG THANKS FOR READING THIS! You guys rock.
Stay safe and God bless!
From your broke Farm Girl,