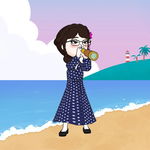 Today is Sunday, a day for resting and recuperating. I also wanted to recharge today for tomorrow's work. Being said that, my mind is also on its rest day so I don't feel like thinking of a good plot for a short story nor an interesting topic for a blog right now. If something like this happens, we know the ritual already. Of course, just answer some random questions. It's better than to abstain from writing or copy another person's published works on the internet, also known as plagiarizing.
These are some random what-if questions that I have read from the article of @mommykim. If you are also interested in joining this trend, just choose your What-ifs questions at this link.

What if you had to give up one thing between watching television or surfing the internet?
No second thoughts, watching Television of course. While surfing the internet, you can do many things including watching your favorite television channels because they also have official websites, social media accounts, and Youtube channels. Watching television isn't the only option also here, you can use it on different ways. In as much as you can think, as long as you have a stable internet connection.
What if you could have complete knowledge of 3 skills? What would they be?
I would likely have a complete knowledge of technology, business, and medicine. If I could acquire a complete knowledge about those things, maybe I could even save the world. Wow, a shameless dreamer, LOL. But seriously, these are the things that the world needs right now to survive this pandemic. Just imagine if they are knowledgeable about technology, surely the treatment process for treating diseases and the other needs of the people in their daily lives would become easier. If we are knowledgeable in business, who would still remain poor in this world? If we are knowledgeable in medicine, there's no viruses or diseases that can't be treated. Since the I'm the one being questioned here, that more likely I would choose so I can use it to help more people.

What if money was never an issue in your life? Where would you be at this exact moment?
If money wouldn't be an issue in my life, I wouldn't bother to study and work anymore. I would just travel the world instead much as well travel the Solar System.

What if your favorite musician was a renowned make-up artist instead?
It doesn't matter, honestly. I'm liking them because of their music not because of their lifestyles. As long as they create a good music, I would continue to like and support them.

What if you could live anywhere in the world for as long as you wanted? Where would you live?
I would choose to live in Japan, my dream country. I like it for being peaceful and a nature lover country, also for being the powerhouse of ANIME. Their people are also organized and disciplined unlike here in my precious country, Pearl of The Orient Seas —Philippines.

What if you could choose between being famous or having fortunes?
If ever, then I would having fortunes. Being famous is nothing if you don't have fortunes along with it. However, if you have fortunes, it doesn't matter if you are famous or not as long as you have money. You can even buy your fame with a large fortune.

What if you lost everything you ever had in a split second? Who would you turn to without second thought?

The first one is God, no need to explain about this. The second one is my mother. Mothers are proven and tested for their reliability. I have tried it once before and my mother have welcomed me back with a hug, though I lost almost everything.
---
Hey guys. Good for you if you have written a good topic today. But if you can't write anything just feel free to try this trend.
I dozed off for 5 times while writing this article. That means my rest isn't complete yet and I need to have a lot more. Tomorrow I'll try to be more active and productive here and in Noise Cash. I'm so sleepy right now. Haha, I can't take it anymore.
Well, then just be careful, stay safe, and God bless us all.
Signing off, and Good night.
---
Lead image from Unsplash
Image 1 from Shutterstock.com
Closing image edited from Canva