What's so special today?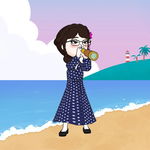 Yesterday, I wrote in my previous blog that my family went to the sea to do a tradition that people in our place always do after 3 days from the day of burial; to swim in the sea to wash away all the negative emotions and unwind to face a new life afterward. They also celebrated my daughter's birthday though it was already late. Though they are far from me, it's fine as long as I saw them fine and happy. It wouldn't be that long until I can be with them again anyway.
As for today, I can't say that today is a holiday to be a special day for everyone to celebrate but for me, it's very special. It is because this is the day that I got out of my mother's womb to see and experience life in this world. I may have grown up with hardships along with the depressing pressure from the people around me but I still thank God and my parents for this life.
I can't say that I'm that useful to society for my special day to get recognized but thinking of all the hardships and suffering that my mother has experienced while giving birth to me until I grow up, makes me want to celebrate it. Because, honestly, when I was a depressed teenager with an immature brain, I did wish not to be born at all. Though indeed, every people in this world never wished to be born, that was still rude of me to question God's purpose for me and my parent's sacrifices. That's why, as soon as I have realized that, I came to celebrate it ever since 3 years ago.
I said that but I was really determined to let this day pass as a normal day. The sale of a Lenovo Watch with an earphone as a freebie for only Php 1,220 came first and since I don't have a watch, I quickly grab the offer. It's not just me, but four of us here at the house. I thought that I should just give myself a gift than hold a party here. They already have a party last Chinese New Year and our colleague's birthday, so I just thought maybe they got enough of it already and another party isn't needed to be held anymore.
When I was assisting Madam this morning, she surely forgot my birthday and she didn't notice the notification of my birthday reminder on her Viber messaging app. I just keep silent about it and it is also embarrassing to remind her of it myself. But when we came downstairs, her grandson was in the garage standing in the heat of the sun so early in the morning. They had a little chat about the quizzes that he took last night. Then when Madam was about to leave, he greeted me and Madam heard it.
She was surprised about it and quickly pulled out her wallet, then gave me Php 2,000. She told me that it's mine and it's up to me whatever I should buy for them. I just asked them what they wanted since I know already that they have had enough from eating a lot since Chinese New Year. After having a quick chat with them, I headed to the Supermarket to buy their request. I took one of our housemates with me because I don't have a membership card to enter S&R.
We bought 9 burgers, 6 servings of fries, 1 liter of Ice Cream, and 2 servings of Carbonara. Since the money wasn't mine, I don't feel like leaving any change with me. The total of all of it was Php 1,850, so I just bought myself a hairclip because I needed one, and the remaining change was spent on the tricycle fare on the way back home.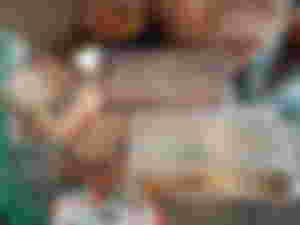 It was already past noon when we arrived home, so I just gave them the food and let them eat with themselves. I just hurried upstairs to finish the tasks that were still left untouched. They were about to sing me a birthday song, but I told them that I'm too old for that already. LOL. And yeah, I don't buy a cake anymore, I just bought ice cream instead. I'm afraid they'll write a birthday message with it again saying, "Happy Birthday. Hope you don't die". I know they'll do that prank with me and I'm glad that I convince them to just buy ice cream instead.
---
Thanks to all who greeted me in Telegram and noise.cash, I greatly appreciate it.
To @carisdaneym2 who tipped 0.005 BCH to me on Telegram, thank you, admin. I'll surely buy a burger with that next time. Haha! Yo dabest po.
Also, thank you for reading my articles every day. Your great support has helped me a lot even now. All the support that I received every day from all of you is the greatest gift that I received here in read.cash. May God bless us more with good health and prosperity! Images edited from Canva

You can also find me at;