Truth Be Told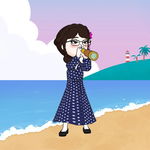 As what was I have been saying in my previous articles, "We don't know what the future holds. We don't know what will become of us tomorrow. We don't know how much longer we can breathe above this earth. We don't know how much time is left for us to live." The future is uncertain. You once witness a strong, cheerful, and healthy person greeting you as they pass by you as they go to work every day but suddenly they are gone in an instant. Then most of the people will whisper to you like, "... so young and healthy. How could ... die at an age? Things happened so fast."
And you'll just wonder why for some time, "Have they done something wrong to just leave that way? Did they even deserve it? Or their purpose was already fulfilled?" For sure, you can never answer that because only God knows everything. All we have to do is to trust in Him that he would guide us, protect us, and provide for us, so we could always be at ease or even die with a peaceful mind. Aside from that, we could free ourselves from worries that could kill us sooner.
Even so, just seeing your relatives die one by one in a year, can make you worry and nervous about such a thing. "What if I'm next? What if I can't wake up tomorrow? Am I ready to face God right now and send him the best regards from my friends? Can I even go to heaven?" Yeah, all the questions that cause you to panic and make you unable to sleep comfortably at night keep on popping out of your head. That kind of nervousness can make you have the worst palpitations like you had a drink of much more concentrated black coffee than Espresso.
It makes you down in an instant but just for that reason. No matter how good the weather outside is, you really can't change your fate. You can do nothing about it but just accept the truth that death is after you someday. One of these days, our time will come. While we worry about ourselves, we can't also help ourselves not to worry about closest loved ones. What if they are gone one day so suddenly, too? Are we prepared for that? For sure, NO. We can never be prepared to accept such painful moments in our lives but we to bear with it and accept it no matter what so we can move forward.
Bear with it? Accept it? Move forward? Easy to do but hard to do. The emotional damage that it had done to us is incredibly huge. How can it be if we are on the stage of being unmotivated, depressed, and in denial? That would be a long way to go, isn't it? Even Grief has 5 stages; Denial, Anger, Bargaining, Depression, and Acceptance.
In my current state right now, where everything just happened so fast, I can't even distinguish which stage I was in. I'm not in denial because I know for sure they are dead. I'm neither angry nor bargaining. For sure, I know that they are ever coming back. Does that count that I accepted it? If not those four stages, then maybe this depression... Again?
"Hello, darkness, my old friend..."
I have come to talk to you again but through these blank pages in front of my screen. Can anxiety be added to those stages? I don't know but I'm not comfortable knowing this truth about our fate. I can't be sure if I'm ready myself. I just want to see them with my own eyes. In that way, it could ease how I feel somehow. I want to see them again lively arguing with each other, not lying in a cold coffin surrounded by candlelights and white curtains.
---
These thoughts came rushing over my head as I heard the news about the passing of my Gramps this morning. I have written a lot of articles about him here, so maybe you are familiar with him already. One of the articles that were meant for him was this one, "The Sentiments of an Old Man". I have written how much he cared about us more than our biological father could do. He was more of a father to us than a grandfather. He was a good person until the end. It hurts to know that he was gone. I even told him to wait for me as I will go back home in February when restrictions are lifted. He just said, "If you can make it while I'm still alive, then..." I never expected that he would be gone sooner than our planned meet-up. Though that was the case, I'm still half-relieved about it. At least, he was now resting beside our Heavenly Father.
---
Thanks for being here reading my sentiments.