The Package Is On The Way!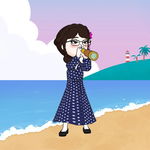 Maybe, some of you are already tired of reading articles from me about my incoming flight on Sunday. I apologize but this is going to be another one about it again. It's just that what I'm doing mostly these days is preparing myself, so I wouldn't struggle hard adjusting again when I get home. It's all that I can think of sharing here for now. Actually, I have 4 parcels that arrived there first in Bacolod today that were received by my best friend. Those were still the groceries that I bought on Shopee last 5.5 sales, so I can save some. I don't have a job anymore when I get back. I have to save my money to make it last longer while I'm still looking for a part-time job.

This morning, I sort out all my things to know what will I send first and what will I bring with me on the plane. The only free luggage that I can take with me on the plane is 4 kilos and it can accommodate just a few clothes in my backpack. I can still bring the rest with me on the plane but I will have to pay for the excess luggage and it can cost Php 200 per kilo. Unlike if I ship it through LBC, it can just cost me Php 100 per kilo, plus Php 300 for the insurance fees.

I finished sorting my things at past 11 am already. Before I left the house, I weighed the luggage on our weighing scale and it weighs 16 kilos. I just weigh it, so I'll know if I can afford to pay for it. The traveling bag and the eco bag that I'm carrying are heavy and I know that I can't carry them on my own to the nearest LBC branch. I asked a friend to carry the other bag for me and she agreed because she also has things that she wants me to send to them.

Good thing, we found a tricycle outside the villa. We would be baked under the heat of the sun if we haven't found one for we have to walk for 20 minutes just to get to the nearest branch. We get there sweating hard though we rode on a tricycle. The heat these days is intolerable. I felt a sudden jolt of pain in my head as I enter the branch, probably from the heat. It happens every time I go outside.

I asked for assistance with my package and the staff are accomodating. She gave me a slip to fill up my information and the receiver on the destination. Then, she gave a box to my friend, so she can start arranging the clothes and the other things that we have to send in there. When I finished filling up my details on the slip, I helped her arrange it. When we finished, the staff closed the box and taped the openings. She also put stickers with a "FRAGILE" label on the upper side of the box, then she asked a helper to lift them and put them on the weighing scale to be weighed.

My measurements are right and it surely weighed 16 kilos. I paid  Php 1,900 all in all. I told the staff to just deliver it door-to-door since the charges are still the same if just I pick it up at their branch in Bacolod. The shipping would take 6 to 7 days before it would be delivered to my current address in Bacolod. It's fine since I'll surely be there when it arrives. I think I have to delay my trip to our farm for another when I arrive. I still have to wait for the package first since it consists of all of my gifts to my family.
---
When I get back, I still feel the headache and it is pulsating. I just took a bath after a while to ease the heat. I take medicine and now it's gone.
But the side effect of it, I guess, is drowsiness. I can't stop my eyes from closing from time to time. So, I guess, that's all I can share today. Thanks for reading! Lead Images edited from Canva

You can also find me at;