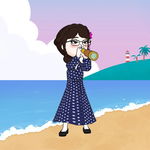 When I was a kid, I have that habit of reading every word I saw around the house. Then one day, I saw this word on our calendar. It says "Pontevedra". The word sounded foreign to me and it was the first time that I have ever heard of it. I was curious about it and asked my mother. Then she replied that it was the name of our municipality. As a curious kid, I asked why it was named like that. Then, tell-tale from the elders had been passed down to me.
According to my mother, there is a pointed stone in the middle of the river which is going to the sea that's why our place is called "Pontevedra". Also, she added that the pointed stone is the one who is holding back our hometown from progressing or the one rather who is causing poverty. In other words, the pointed stone at the middle of the river has a curse that is making the whole municipality suffer.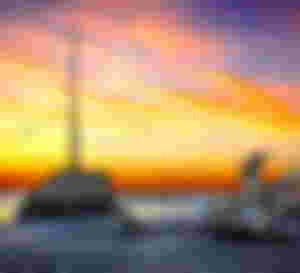 ---
[The lead image and 2nd image are from Pontevedra's Official Website.]
As a kid, I have once believed that myth because everybody in the countryside also believes that. However, as I grow up and learn the real history from school, this belief gradually changed and been clarified.
These are the questions that have made my childhood full of curiosity;
What does the word Pontevedra mean?

Why did our place was named with that word?

What were the factors that were making our municipality slow on progress?
From all those years, I can finally answer these with facts right now.
---
Let me share with you the answers that I found out.
According to dictionary.com, it is a port in northwest Spain that takes its name from a 12-arched Roman bridge called Pons Vetus. This info matched accordingly to the information that I have gathered from the municipality's official website wherein they stated that it is unquestionably an Iberian name which is taken from an elegant place of Galicia Region in Spain.
During the Spanish Colonization, those colonizers brought it to our shore. They wanted to be reminded of the place where they have come from and their loved ones, then so replaced the name of our municipality from "Marayo" (which means Malayo in Filipino deriving from a mixed of Karay-a and Hiligaynon dialect, or afar in English) to "Pontevedra".
The following ideas come from my perspective, a simple citizen who experienced poverty in such a place.
Topography and Population
Having shores at the west, ricefields, and sugarcane plantations surrounding the rest of the municipality, I considered these as factors. There aren't even several infrastructures built in the capital location of the municipality nor tourists spots. I can only name a few of them, then that will include the government hall, public health center, the oldest church, schools, and the market. Before I fly here in Manila, there's an ongoing construction of a Gymnasium there and I don't know when it's going to be finished. It is a typical place that you can definitely call a Rural. The population here is also not that many, maybe just 10% - 25% population of Bacolod City, the capital city of Negros Occidental Province in the Philippines. How are these going to boost the government's funds to make more projects then?
As I grow up, the politician names I can see being elected were just the same every term and they are just alternating from lower to higher positions, or from higher to lower positions. Still, the same advocacy, the same roadmaps, same slow progress, and others are the same being corrupt. So how can a place progress if the leaders can't lead us well?
I really hate their mindsets. That kind of mindset that often says, "Let it be.", "There's nothing we could do.", "We are just poor people.", "Our only hope is the Government's aid." Well, I'm thinking the exact opposite of what they're thinking.
How can you just say let it be if you have the power to vote and elect the right leaders? How can you say there's nothing we could do if we are not persons with disabilities? How can they say that they're just poor people if most of the people there hold farming land properties? That's worth millions of pesos if it's residential land, have they know that? How can they say that their only hope is the government's aid when they are still capable of working?
---
Here's also a proverb from my mother that I can never forget.
"It's not your fault if you are poor when you are born but, it will be your fault if you are still poor when you die."
These words become my foundation of determination to work hard and lift our status. At the time I have realized the meaning of those words, I'm determined that I should help our family rise from the ashes and sit in its glory. No matter how poor you are when you were born, if you are determined to get out of that darkness, you can do so. As long as you put God above all, work hard, focus on your goals, and never give up. How I wish that my fellow citizens think like me. Our place would be wonderful if they did.
---
Thanks for reading up to this point. Stay safe, stay healthy, stay happy, and stay beautiful people.
Ayane-chan here,
Is now signing off.