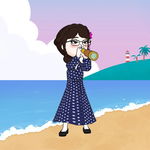 Jeff's family have moved to another town since their jobs are closer there. Being said that, he also has to move to another school and today is his first day. As a newbie in an unfamiliar place, it is just the usual thing that people will stare thoroughly at a new guy. Jeff feels uncomfortable with people staring at him, so he keeps his head down and only looks at his way in his front.

His first day goes smoothly than he expected. He easily finds friends and they enjoy talking to each other. They even hang out after school at a gaming shop. They walk home together —he, Jazz, and Jim. They parted on a street which isn't far away from his new home anymore. On his way home, he saw a girl sitting on a bench. She got bruises on her cheeks and her uniform is wet. Her hair is messed up and she is silently crying on her own.

Jeff recognizes that she is one of her classmates. She is the one who sits at the back of her classroom near the window. She is the girl that Jazz has mentioned to him at lunch. They warned him not to get close to her because she is creepy and weird. Jeff still wonders why is she crying alone at the park while it's getting dark. He approaches her and asked why is she crying alone there. She got surprised by his presence and looks at him with frightened eyes. Then, she runs away without uttering any word.

So, that's why they call her weird. He thought.

He just walk straight home, shrugging off what happened. The next day, he saw two boys of his age, probably from the other section, bullying a younger one at the front gates. They took all of his money and food. He doesn't mind it since it's not his business. He went straight to his class. He saw the girl again sitting at her desk with her head down. Her desk is full of vandalized words which are the ones that they always call her. Some of the girls that passed by her seat would throw a crumpled paper at her. She doesn't move an inch nor complain a word. That's bullying, he thought. Jim called him, that's when he fixed himself in his seat. Jim warned him not to butt in again in that weird girl's business. He invited Jeff instead to his birthday party that will be set for tomorrow. Jeff then agreed.

As another day comes, Jeff went to Jim's house as they have agreed to do. The party went well. Most of his classmates have come, and also from other classes. He caught a glimpse of those bullies at the gates the other day in the crowd. He saw the two of them walk towards the back of Jim's house. They are laughing while the other one is playing fire in a lighter. He has a sudden trepidation with what he saw. He tailed them silently.

They are laughing while talking about what can they do to make the party more fun. The other one saw a galloon of bleach in the laundry area and start spreading it where the laundry is hanged. The clothes that are hanged there were stained with bleach and they also pour it into the water basin. The other one takes out his lighter. Jeff can't take it anymore. He comes out and confronts them but they just laugh at him. They splash the bleach at him instead. His eyes caught some of it and it hurts badly. It stinging and he screamed in pain. He can't open his eyes in pain and the next thing he knows is that his surroundings are heating up and it seems that there is a fire going on. He tried to walk away without seeing his way and shouts for help. He bumps into someone and then the next thing he felt was something hits his back. He lost consciousness and lay flat on the ground.

Jeff wakes up in a hospital with his parents crying in front of him. His body was full of bandages and painful. There are burns all over him. After a week of recuperating in the hospital, he was discharged. Jim and Jazz visited him but he refused to talk to them. He even refused to talk with anyone including his parents. He locks himself in a bathroom and watches himself in a mirror. He slowly takes off the bandages that are wrapped all over his head.

He was shocked to see that his face is bleached white. His eyebrows and eyelashes were burnt and his face also. His head was shaved off. He fumbles in shocked feeling agitated and hysterical. He saw the cutter he used for wrapping gifts when he left that day. Watching at his face disgustedly, he used the cutter to draw his eyebrows. Blood spat out from the cut but it's making him satisfied and excited. Then, draw an extension of a smile on his lips, so he would always look happy despite his looks.

That night then, two high school boys were murdered. A forced smile is carved on their faces and has cuts on their eyebrows. Their bodies were found soaking in the bathtub full of bleach. Police came to Jeff's house the next morning but Jeff can't be found anywhere. Night after night, there were murdered buddies reported. They were all soaked in the bathtub full of bleach, with a carved smile on their faces and carved eyebrows. More interestingly, they were all bullies.
---
This is just fiction based on a story titled, "Jeff the Killer", from creepypasta stories that I'm reading way back in high school. There were other creepy stories but Jeff's story is the lighter one to handle. I can still recall how we roleplay these creepypasta characters back then. Such a weird fandom, as anyone would usually think. I don't even know also why I have been part of that creepy fandom back then. That phase of me had already passed a long time ago. I just remember these things again when @OfficialGamboaLikeUs requested a crime story.
---
Thanks for reading this story until the end though it's not a typical story where everyone can enjoy. I hope you learned a lesson from it, though. So guys and gals here, bullying is a crime and shouldn't be normalized. Okay?
Do you have the passion but haven't registered to this platform yet? Then hurry up and register to this link 🔗. Join us on our journey of blogging and earning BCH. Also, make some noise with me on noise.cash just like how you make noise on different social media platforms.
For further questions, please contact me at:
Twitter: Ayane-chan
Telegram: Ayane-chan
Instagram: Ayane-chan