Not That Busy, But Distracted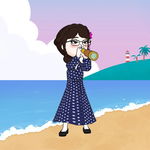 I'm still following my usual routine despite having a trainee by my side most of the time. I don't despise it having someone tailing with me, but I can't focus on my extra miles like writing here or composing thoughts to write later. I aimed to write here every day from the start of the month but it seems that I haven't accomplished that now. It even became almost impossible to write these days since I'm always distracted by her.
During working hours, I supervised her work and teach her about her loads. I'm also giving her tips on how to survive here and the following perks on Madam's attitude. The boss is oftentimes sweet but sometimes she just suddenly goes outraged by some things that could irritate her. It's not that surprising for her to have that attitude since she is also now a Senior Citizen. It is quite expected of them. It is just that the previous replacement doesn't understand that and lets herself get swayed by the offer of her Aunt.
When we have our break time, she still sticks to me because she doesn't know anyone else yet. She eats with me and takes a nap with me. She often also use her phone beside me. She would watch videos and talk to her loved ones as if there is no other people besides her. She doesn't use headphones when watching movies. I want to write but I get distracted and tempted to watch it with her.
Yesterday, we were watching a Korean series, "All Of Us Are Dead", which made me download Netflix and share an account with her. She has an existing account but she doesn't have any active subscriptions that we can watch freely. We decided to split the fee and made a payment through Gcash. She chooses an option for 3 monthly premium plan for Php 280. It's not that bad. I tried to watch it on my own last night and found an anime. I just finished the first episode and stopped to browse those dramas which I wished to watch. I can't find the drama that I badly wanted to watch, so now I'm having doubts about why did I subscribe to that.
So far, she doesn't have any complaints. In fact, we get along very well. We tell stories of our lives most of the time and usually about our exes. Honestly, we are not that close when we were kids even though we are living and studying in the same place. My first impression of her when we were kids was that she was some kind of a scary bully or something. It was the exact opposite, though. She just looks intimidating but in reality, she is sociable and easy to talk to. Maybe that is also why Madam have liked her in just a few days of staying here.
I told her that I'm going to write an article and focus on reading. I told her that I can't focus on what I'm doing so I will put on my headphones for a while and just instructed her to poke me if there is something urgent.
---
I finally managed to share some thoughts here. It has been stressing me out to think that I can't make it every time I try to write than supervising the trainee here. She picks up instructions fast and she is reliable in doing her tasks, so I can take a breather now even for a while.
Thanks for reading! Lead Images edited from Canva

You can also find me at;