My Understanding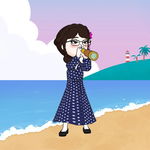 Every one of us here has insecurities. Like why can't we be as flawless as them, why can't we be as elegant as them, why can't we be as charming as them, or whatever that can be. Your confidence slumps down as you think of these things. You got embarrassed by who you are and are always afraid to get judged by people who are not even contributing anything good to your life. It is quite embarrassing for sure to have flaws. I admit that I felt that sometimes, too and one of my greatest insecurities is my personality.
I'm not like anyone else and I think differently. I like different things from what normal people will usually like, whom I know and will meet. I'm not the typical girl that you'll just regularly see around when you are hanging around. While they wear skirts and dresses, I wear shirts and cargo pants in all black colors. While they walk like a pageant queen, I walk like a fierce tigress whom no one can mess with. They like mainstream lovesongs while I love rock songs with depressing lyrics.
I'm not that subtle, modest, and glamorous kind of lady. I prefer to be lowkey, boyish, and dark. See, we are not the same. I'm different in every way and that's why even my best friend would always call me "Alien" because my ways of living are out of this world.
Oh, well. Anyway, I'm not here to rant about those things. I just remember one of my favorite songs when I'm in high school. It's my comforter whenever I feel insecure with the way I am. Maybe, you'll know this. Its title is "My Understanding", a song by the band, Of Mice & Men.
---
The first time that I heard about this song, I got caught off guard by the first line which says,
"I don't mind it, I don't mind if you're overrated.
Or if you're staring at the edge of the world."
---
I feel like someone is telling me with those comforting words. Like that particular someone has accepted my whole personality and still wants to be with me despite being a weirdo in the eyes of other people. I'm kind of overrated sometimes and I admit that. Especially my mood swings, I don't have any control over that sometimes it will either make me super depressed or super hyper all day. I know some people get annoyed with that and even my friends stay away from me when I'm like that. Well, sorry for not being a normie. I'm the embodiment of duality, I know. It's just that it feels somehow comforting knowing that someone can accept your flaws, whatever it is.
---
The next line that I liked goes this way,
"Keep in mind that I'm sore from blurry vision.
But I can see it has to be you, love, that I've been dreaming of."
---
Then, there is the balance goes. It's not just the other side but also the other part. When you accept your flaws just live with them, and be happy, and your emotional health would be healthy. It's also again comforting to find someone who is a bit like you and to feel that you are not alone facing this kind of thing. Isn't it great to know that you have allies now?
What's more overwhelming is to know that someone will choose you over and over again, no matter what you look and no matter who you are.
Ayiee. 💕
---
I'm only falling in love with songs. I just remember this song again. When I'm in high school, I did have a Last Song Syndrome over this song that it lasted for a week just by listening to this song all day and all night. Now, I still listened to it repeatedly but just for few hours.
I hope you'll like that, too. Thanks for reading! Lead Images edited from Canva

You can also find me at;