Maybe, You Can Learn From This.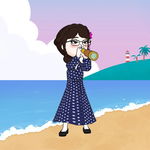 Another day,
another blog,
but my mind is blank,
so I must do this prompt.
---
Honestly, I want to make it rhyme at least a little, but yeah, my mind is currently blank, so how could I even properly think about it? It's good that different writing prompts are initiated by other writers here. It saved me a lot from squeezing some smart ideas from my brain. Before I start, let me greet this cutie here @carisdaneym2 a Happy Birthday, though it is now super late to do that.
You all know that it is the month of love right now. A lot of articles that were published here were mostly all about their relationship experiences, either fail, toxic, or a happy ones. It doesn't matter. Anyway, I'm single right now but not interested to mingle, so that's their problem, not mine. I just want to write a prompt here.
Here it goes then, another one that talks about Feb-ibig but not quite.
---
The best character trait that I have is being a good listener to my friends. I take time to listen to their complaints about every problem they encounter. Though I can't quite understand the whole situation, I would still try my best to console them and give them some useful advice. Then when they would feel better, they'll forget that I exist. When it is my turn to whine about my frustrations and problems about this world, no one would spare some seconds to listen and console me, leaving me no choice but to just write it all here to vent it out.
That mistake is definitely rushing to experience being in a relationship at a young age. My first relationship was when I was 16. It was a hidden and toxic relationship that only ended up after 2 months. Then another relationship has started after that when I was 18, and it was still the same. I'm just a depressed and immature teenager back then who wanted to be loved, belonged, and be cared for. I longed for those things in others until I fell into its darkness and committed the greatest mistake of my life.
Well yeah, as many of you here knows, I have a child and that was the fruit of that mistake but of course, my child is innocent and I'm the only one to blame. But I guess it's not totally a mistake, I'm even wondering now that maybe that was a blessing in disguise which God has given me. I got back to my senses when I gave birth. I fixed my life and our relationship. However, the relationship can't be fixed since love doesn't exist in that relationship but just lust, and hell yeah, he even dared to cheat on me. When I found out, that's the end of it. Now, my daughter and I are having a good, comfortable, happy, and stress-free life without him.
You know ladies don't rush. When you already finished your studies, have a job, and a stable income, that's the right time for you to enter that adult thing. At least, whatever happens, you can stand back on your own and show him that you are better even without him.
Aside from love that is always a given to form a proper relationship, you'll need to have a long patience and an endless understanding with your partner, so you two can get along forever. Even though you love each other truly and deeply but you can't stand each other's attitude and can't understand each other's personalities, that would still be a failure. Trust me, I have been through that. I hated it when my partner was too dumb on things that I'm interested in. When I always explain things and he still does the other way, it's irritating and it's turning me off though I'm not in love with them.
---
Yo, guys!
This is a challenge/prompt initiated by our cutie carisdaneym2 as a requirement to join her giveaway. If you haven't read her article about this yet, just click on this article, "Sharing $50 and 10 NFTs for my 21st Birthday Celebration", and read the instructions on how it works.
As another requirement to be fully qualified for the giveaway, just to be honest, I would like to tag @OfficialGamboaLikeUs to join this prompt. Have fun and enjoy!
---
Thanks for reading!
Images edited from Canva

You can also find me at;