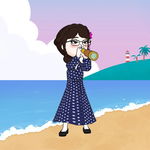 I have heard of a proverb that says, "Still waters run deep."
Just like these waters below this bridge. A calm, still, and constant water flowing towards the sea. It may appear calm on the surface but nobody knows how strong is the current below. It might pull anyone down into the depths of the unknown, trapping anything into its endless void. Who knows what it flows below is like a raging monster that can't be withheld.

It's funny to think that the only thing who understands me is the waters below me. We are alike in many ways. Showing these dead calm emotions but are actually raging inside. Perhaps, I'm also numb about everything but I'm tired and sick of this endless cycle of frustrations. When is this going to end?

"Vent out to the alcohol," that's what they told me if no one is there to listen. Well, this is my 10th bottle of alcohol already. I held it up, saying "Cheers!" to the sky, and took a sip. Hmmm, it sure tastes good when your heart is broken and lost. I know alcohol cannot give me an answer to these questions that I can't find the answer to, but it makes me forget the questions in a short while. It makes me feel much better in a short while.

Here in the middle of the night at the place where the most beautiful bridge is built, a lonely and broken soul has wandered. I stopped here holding a bottle of alcohol and a phone to watch the silent night along these calm waters pass by.  If this bridge can talk, it will surely tell me that they're tired of seeing me here so often, too.

The gust of wind caresses my face. It's telling me that the night is getting colder and I need to get home now. Is there a place that I can call home, anyway? I have a place to live, but that's not my home anymore because I am now disowned loser. A disgrace and a mistake and unlike them, I don't belong anywhere. I'm lost in my own identity.

This just keeps repeating every day and it's a cycle now. They set rules of what they can call right and stick by them disregarding my reasons. Such steadfast rules like that wouldn't favor me at all. Then here I am now, hated by life itself. As it turns its back at me, these demons accompanied me along the way. I thought they were my heroes but they were actually the villains.

They are drowning me day by day. Little by little, my chest is getting heavier. I don't know when will this emotion explode. I know this can't keep going on, so I tried to befriend them and I even dance with them. I tried harder but they wouldn't listen to me. I'm stressed out and exhausted by listening to them whining inside my head.

I guess I just have to accept the fact that the only ones who understand me are these waters and this bottle. Hmmm, my friend, let me take another sip. I move closer to the railings and put my arms on them. I'm surprised by the coldness of the metal and drop the bottle of alcohol. Ah, what a waste.  It created small splashing sounds as it reach the surface of the waters. I somehow wonder how much splashing will I make if I'm going to jump right here. As I look at it below, it looks inviting and it looks more alluring as I stare at it below. Hmm, do you want me to accompany you, my dead calm waters? Tiny drops of cold water suddenly poured from the sky. It wakes me up from hallucinating which was the effects of alcohol. Geez, it's cold. I started to shiver from coldness when it poured harder. They became louder now. It's time to go then, how unlucky this life is, indeed.
---
Just a little peek from my thoughts when I was still on the verge of being a depressed kid. I've gone past that now, so no worries. I just remember these memories when I read the article, "I can't drown my demons, they know how to swim" written by @Jinifer. Depressions are demons that we can't withhold yet can be suppressed. We just need to have a huge and strong amount of guidance, motivation, inspiration, willingness, and faith in the Lord.
---
Thanks for reading this article up to this point. Do you share a similar experience with me? Feel free to talk about it with me in the comments. It is also such a huge relief if you can vent out the weight that's pulling you down.
Well then,
your melodramatic writer is now signing off!