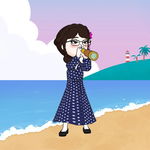 The sizzling sound from the kitchen and the morning news from the TV in the living room wake up my senses. My head is still heavy and still sleepy but I have to be fully awake up because I have work. I tried opening my eyes but it's blurry. The noises outside are making me dizzy. I can't even move my body, as if it's not there.
Never mind. I'm still sleepy.
I suddenly wake up gasping for air, immediately getting up. My eyesight is blurry and I can't understand the news that I'm hearing from the TV in the living room. I stand for a while adjusting my balance. My mind is floating and I can't comprehend a single thing. My head is heavy that it's like going to fall at any moment. I can't control my body at all. Though I can't see it clearly, I know this direction is towards the door. I slowly walk towards it, step by step. It took me a few minutes to reach it. I knew it is the door when I felt a wood with a knob. I took more steps to get outside while still holding onto the door. When I let go of it and stand outside, the moment I know it, I was already thrown into my bed. I haven't seen what it was but I have felt that it's like a strong force that pushed me back.
What was it? My mind becomes dizzier and my body becomes heavier. I didn't have the chance to think about it anymore as I dozed off again.
I suddenly wake up gasping for air, then immediately get up. Again. I can't think. My eyesight and my mind are blurry. My head and body are heavy, too. Maybe, I can shake this feeling off when I take a walk or maybe jump. Hmmm, let's see. I forced my heavy body to get off my bed. I stand for a second to adjust my balance. This will do. I walk towards the door. I don't know what way I'm taking but I'm pretty sure I know it is the way towards the door and I have reached it. The moment I stepped outside the room, I have been pushed back inside and been slumped down in my bed. I can't feel anything regardless of that strong invisible force, though.
Oh, that also happened earlier. I remembered it for a short time and because my mind is becoming dizzier, I dozed off again.
The next thing I know, I gasped for air as I wake up sitting on my bed and then got off. I'm standing here for seconds. Wait, this happened before, right? The sounds outside make me want to go out. What's that sound again? Aha, I knew it! It's sizzling sounds coming from the kitchen and the news coming from the living room. I walked to the door and been pushed back here in my bed for the second time. Would I be pushed back again if I go outside for the third time? Before I could wonder for more seconds, the next moment when I regain a little consciousness with blurry senses, was I'm holding onto the door. It seems like I can't indeed control my body after all. The next thing I know is my feet just took a step outside and I have been instantly pushed back inside and been slumped down in my bed again.
What's going on? What is this? Why is this happening? I couldn't think anymore. I dozed off again.
I wake up as the sunlight coming from my window hitting my eyes and it is blinding. I covered my eyes with my right hand and then yawn. My eyesight is blurry at first but it slowly becomes clearer. My head is gradually becoming lighter and as well as my body. Just what the hell happened to me? I vaguely remember it.
Nevermind. What time is it?
I reached my clock at my bedside table and checked it. I have thrown it on my bed to my surprise. Oh s***! It's 7 am! I'M LATE!

What's up, my dear fellow writers?
Sorry for not posting an article yesterday. I got busy helping Madam CEO making her fruit salad, so I got tired and didn't manage to think of a topic to write about. But, by the way, thanks for reading my article for today.
Anyways, did you also have that kind of experience? It is like you know that you're dreaming but some of your senses make you aware of what's really happening around you but you can't control your body to fully get back to your senses. Sometimes, it's like a dream happening within your dream but you are not aware of it. You think it's real so you just went straight to do things that you are doing in your morning routine. Well, it happens to me a lot when I'm very tired and went to sleep directly at night but I have to wake up early so I can't be late, then keep thinking that I should wake up at this hour as I doze off.
I made a little research about this. It is not a nightmare but it is called a FALSE AWAKENING.

Once again, thank you for checking out this article. If you still got time spared, please check out the works of my amazing sponsors.
As always, stay safe, follow the safety protocols, and keep your immune system boosted. Also please do remember this;
"Out of all the hardships that we are suffering right now, don't lose hope. Be positive and keep fighting".
Well then,
Signing off!