I was a demon but I gave birth to an angel.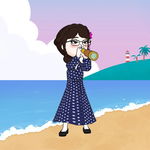 It is still fresh in my memory of how I bought a Pregnancy Test Kit in our local pharmacy, then I squeezed 3 drops of my urine, and after 5 minutes, two lines came out of it which means I was positive for pregnancy. I was that young back then but I'm not surprised and worried about it. I know what I have done. I firmly stand for it to face the consequences. Unlike the father of my child who is more of a demon than a demon that I was, he didn't want the child at first and he even tried to convince me to have an abortion.
At that young age, that was maybe the most difficult decision that I have faced —to let the child live or not. If I choose to give birth, you know raising a child isn't easy. If abort, can I bear it to my conscience without feeling guilty all my life? Those were my considerations, despite that, I snapped back at him saying that I will raise my child even if he likes it or not and I don't care what will people say to me. Whatever judgment they threw at me, I have taken it. I did a mistake, so I have just taken it as my punishment. But I still keep my face straight whenever I went back then, I just told myself that at least I didn't abort my child unlike what had the other women in our place did, in fear of getting judgments and criticism for being pregnant before marriage.
My tummy grows as months go by. My parents had little criticism and worries for me but they still supported me along the way and even now. I expected that people will judge me and I expect harsh words from them but they didn't say a thing to me which made me surprised. It was like a miracle had happened that a whole Barangay which is full of Marites was quiet and not gossiping about that big issue. I'm not sure if they were talking behind my back at that time but at least they were quiet when I was around.
---
Enough of that brief background history, let me answer these questions below, so you will know more about my journey of motherhood.
I had a normal delivery. It even went fast and smooth. Maybe, I was just used to having painful dysmenorrhea in every menstruation that I had a high pain tolerance. It was not that painful to push my baby out but the stitches were. The doctor needs to stitch the lower part of my genital since it got cut when I exerted a lot of energy pushing my baby. My mother said that I should push harder in one go so that it wouldn't leave marks on my child if I stop, and so I did. I can't remember that they injected anesthesia on me. I can really feel the pain every time the needle touches my skin and every time the thread would be pulled.
No, it's not allowed and he wasn't there. He just came there to sign the papers for the birth certificate of my child. We were not on good terms back then since I caught him cheating. I was on the verge of breaking up with him but I was thinking of how I can get support from him, so I gave him another chance until I got recovered and was able to work. A few months after I came here to Manila, I completely cut the ties between us. I leave it to his conscience to haunt him if he doesn't continue the support. So far, he rarely does since he was just recovering from his fatal accident. Deserved, I guess. Karma came to collect his debts for me.
I forgot when was the exact date of my last monthly period, so I only gave an estimate. I'm not expecting that the count of the health workers in our health center would be the exact date of my due date. So, I really took an ultrasound to know it aside from the gender and the position. The ultrasound said that my due date was on January 29, 2019.
When I knew my due date, I was even hoping that my baby would come out on my birthday which is February 4, so that we could always celebrate together. My baby didn't listen to my wish, though, I gave birth exactly on my due date which is January 29.
Yeah, a lot. Not just morning sickness, I also have a cold and fever for the whole month of my second month in pregnancy. I am really thankful to God that I didn't have a miscarriage despite my health condition at that time.
First, I craved pineapple juice in a can. Then I went to 7/11 at 10 pm just to buy two cans of it but when I got to have a taste, it tasted really bitter that I can't have another sip anymore. I just threw those 2 cans since there was no one in the staff house whom I can give them to. Another fruit that I really craved was the Dalandan oranges in our backyard. I even climbed the Dalandan Orange trees even though my tummy was already 8 months in pregnancy just to eat more above there. My mother was worried sick about what I'm doing. She was panicking at the thought of the possibility that I might fall. I'm a great climber of fruit trees since I was a kid, so I never fall.
When I still didn't have an ultrasound, a lot of people were already telling me that it is a girl since they notice that my face is blooming and I'm getting more beautiful. That's what they said, I never said a thing that I am. But still, thanks for it. When my ultrasound results came out, it turns out that they were right about it. My baby is really a girl and a girl for sure when she came out to see the world.
I gave birth at Don Salvador Benedicto Memorial District Hospital. The ambulance let me choose where the hospital should I give birth and at first I declined to give birth at our local health center since they don't accept a Philhealth card. Then, I directed the medical responder to send me to Tabao District Hospital at Valladolid, Negros Occidental. It was 2 municipalities away from our municipality.
When I got there, the nurse checked the distance of my child's head from my opening. It was already 7cm, just 3cm more and I'll be fully dilated to give birth. However, they still refused to take me in and said that their capacity was full. Then they wrote a referral letter, wanting to refer me to Corazon Locsin Montelibano Memorial Regional Hospital at Bacolod City which is 45 minutes away from our place.
I got worried that I might give birth in the ambulance along the way, so I suggested if they can refer me instead to Don Salvador Benedicto Memorial District Hospital since it was just 15 minutes away from where we were. Good thing, they agreed. When I got there, it was already 8.5 cm. They admitted me after getting the information they needed from me.
It was just 30 minutes. The contractions started at about 8 pm but I didn't mind it at first because I thought that my child was just kicking since it was not that painful. At around 10 pm, I woke up to pee and I saw blood on my underwear so I alerted my mother and my eldest brother. They carry my things and we walked to the highway for almost 3 kilometers, since our house is in the middle of a former hacienda, just to call an ambulance.
The ambulance arrived at past 11 pm, and I was admitted past midnight. The midwife instructed me to alert them if my water bag broke or I can't bear the pain anymore. I can't determine how much pain I can't tolerate and it was already about 3 am, so I told them to check. It turns out that I was already fully dilated and I can already push it even if the water bag still didn't break. I lay down there in the hospital bed and pushed as hard as I could. Then by exactly 3:30 am, my beautiful angel came out.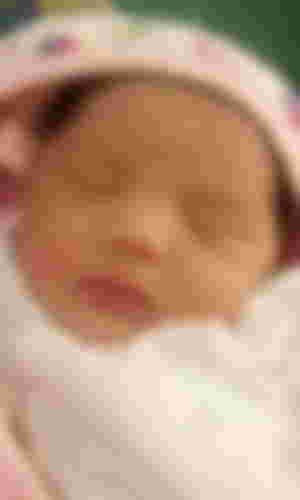 She came out weighing 2.8 kgs. My gosh, I can't believe it. My tummy was just so small back then, so I even worried if she was getting enough nutrients from me that my tummy didn't bulge that huge. Still, she came out that fat and healthy.
Her name is Amira Jane. Her father was the one who gave it to her because if I would be the one to choose, all I could think of was Castiel, which is a male angel in the Supernatural Series. I thought it sounds feminine also, that's why it was the only one that I chose but I didn't win the argument, so the name Amira Jane won.
Also, later on, I realized that our names fit very well together. My name Fritzie means ruler, and Amira means princess. So nice, right? I can't argue anymore.
---
I was tagged by mamshie @mommykim to participate in this prompt intended for mothers. I don't have any special topic to write about today, so why not give it a go, right? For this, I also want to tag @BCH_LOVER to give this prompt a try. Go, Marengs!
For those women who are reading this but not mothers yet, you'll eventually reach this stage someday, so I'm hoping that you have learned something about our pregnancy journeys.
Thanks for reading! Images edited from Canva

You can also find me at;