Giving Myself A Reward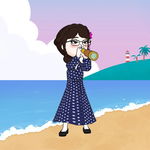 It was 2 days ago that I wrote about being a user here for a year in my article, "User For 1 Year..." I'm deeply gratified with these platforms which allows me to earn BCH which has been a great help to me. Within that long period of staying here, writing, and reading other articles, it helps me understand that there are a lot of things that we can do online to earn a living without consuming too much of our time and without affecting our regular activities offline. That grasp of knowledge helped me convince myself to pursue my college education in the next school year.
Since I have known cryptocurrency, it has eased my worries and lessened my tendencies to overthink things in the future like in the aspect of financial capacity. I'm worried if I continue my education, I might be only a burden with my parents and siblings if my savings run out and I can't find a part-time job while studying. My parents are old enough to work and my siblings have their own lives to worry about as well. I have no one to depend on, that's I have to be practical in a lot of ways.
A lot of disasters happened last year, not to mention that there is still a Covid-19 virus lurking around somewhere spreading to infect as many people as it can encounter along the way. Last year have a lot of bad luck and maybe the stars for last year were unaligned to cause many sufferings to the people. I don't believe in Feng Shui, so just kidding. Though having said that, it was still a year of blessings to me because Rusty always notice me every hour. And in every visit that he paid for me, the more happier and blessed I felt.
I have solved a lot of my problems because of that. Money is indeed powerful. LOLs. So to celebrate my hard work for the whole year round, I think I have to reward myself too. I should also have a taste of the fruits of my labor, not just always them at home. Last week my Aunt in Cavite was saying that I should buy some of her products first before going home. However, she gave me a bottle of perfume and a small box of moisturizing soap for a Christmas gift last year. I don't need anything for myself but whenever I looked at the mirror, I often saw my haggard face and I got tired of it. Well, that's when I thought of buying some skincare products. Since she recommends her products that much, I bought a set of skincare products from her.
My Aunt was fast to deliver it. Just 3 hours later, the Lalamove's Delivery Driver called me already, saying that he left my parcel at the guardhouse at the front gate of the villa. I paid her Php 300 through Gcash, then went out to pick up my parcel. When I opened them at home, I find them cute since it was all pink. Haha, but I'm not saying that I'm a Mama Leni supporter, okay? I simply find it cute, off to politics. The box contained soap, a toner, a sun cream, and a moon/night cream. I'm still using the soap that she gave me last Christmas, so I still don't use them.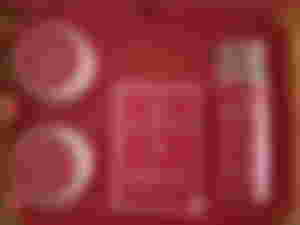 Browsing through my Facebook newsfeed, I discovered an online seller that sells anime-printed shirts. They are having a promo so I checked it out immediately. Their designs are cute and minimalist and it is totally my taste. I don't really like large prints that occupy the whole shirt. So yeah, I placed an order for 2 shirts, Zenitsu and a Demon Slayer logo, that was supposed to be paid for Php 649. A friend of the house saw it too, and he was interested. I persuaded him that we should combine our order so we can only pay Php 1,149 for 4 shirts and it's a good thing that we availed of the promo with free shipping that can also be paid on delivery. It's better like that so we can check if it's legit before paying.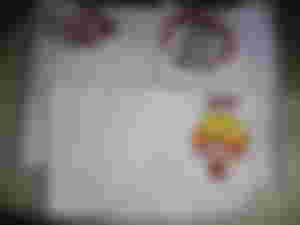 It arrived 3 days after, and yeah, it's legit. The fabric is also good, free size, and has fine prints. To my surprise, there is 1 shirt free with an Uzui Tengen design. Ah, so lucky. I got so happy that I gave them a good review on their page. It would also be a good reward if I have been able to avail myself of that Php 2,022 laptop of Acer but nah, they are kind of scam. Anyway, it's good to reward yourself sometimes. Just a little reward to keep ourselves motivated to continue our hard work for the next few days.
---
Thanks for reading! Images edited from Canva

You can also find me at;