Getting Ready For The New Life Ahead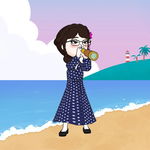 "You need to be ready and equipped when you fight in the battleground."
That's what my mother often tells me if there is something that I have to do and I'm new to it. She would tell me that facing a challenge in life is like taking an examination test at school. You need to be prepared for it. And by saying be prepared, you need to study ahead of that scheduled day. You need to prepare things like your pen, paper, eraser, snacks, water, or anything that you would be needing when you take an exam.
Disclaimer: Not every school is allowing students to bring snacks and water during the examination day. Sometimes, you have to bear with it until break time if you are hungry.
Well, her point is just simple. When you want to face something new or challenging, be prepared and prepare ahead of it. We can't just walk into something without knowing anything about it. We can't just dare to do something without knowing what it is for. We shouldn't go unprepared or else we would just be digging our own grave in an unknown place.
---
I think a lot of you here know my plans already for the next few months. For someone new here in my blog, I'm going to get unemployed and will be living in another city alone to study. I have estimated my remaining days here at work. I can probably go home in the first week of April after training the recruit to replace me in my position. My boss asked me for a favor to train her carefully at the best of my abilities, so she wouldn't take her time anymore adjusting to the new girl. Because she is a good boss to me, I agreed.
Then while I'm still here, I'm already anticipating the next steps that I will do after I leave here. Questions like these, make me ponder more.
What should I do next? Where would I go? How will I raise my daughter while studying? Where would I stay in another city? How should I fund my education?
Though it's a big risk and a big step to do, I feel that God is really guiding me always. It's surely a huge pain in the neck and raising a child while studying isn't a thing to go easy with, either. But God loves me and He is always guiding me on what to do in my life so that I can handle problems no matter how challenging it is which I will encounter along the way. I will always be thankful and will keep praising God forever for that.
Even discovering this platform and having a passive income here just by writing blogs, is an answered prayer. I always pray back then that I hope I can find an online part-time job, so I can continue my studies while raising my daughter and it wouldn't also affect my study schedules. Then, here it comes to my life. The moment that Rusty upvoted my articles here, it made a huge change in my life and eases everything.
Because I have already something that I can rely on my financial problems, the next step is to have a Valid ID and I will also register to get a certificate in our Municipal Hall stating that I am a single mother. The government is giving subsidies and assistance for the likes of us, so it would be also a great help one day. My only ID here now is Philhealth and it's only a secondary ID. It is not accepted everywhere unlike those primary IDs. I can't even use it to verify my e-wallet accounts for cryptocurrencies.
That one is easy to be solved, though. The one huge problem for me is a place for me to stay in another city. Fortunately, the family of my best friend there owns a boarding house. Upon knowing that, I immediately told him to reserve one room for me and I will pay an advance payment on my payday next month. The only room left is charging Php 2,500 per month. It's a bit costly but I still take it. At least, their place is safe and quiet. But earlier this morning, he told me that his mother said that I can stay there for just Php 1,600 per month since I am his best friend. Wow, I kinda feel privileged over there. LOL.
Unlike at the boarding house of my Aunt there at another Barangay, which is a swarm of drug addicts, rugby boys, out-of-school youths, and species of Marites. Aside from that, since my Aunt and my other relatives live near there, I know that they will ask for a favor from me from time to time and I can't refuse them since we're relatives. If I refused, I would appear bad for not helping them. But then, if I always gave in to their favors, I can't do what I intended to do for myself and I'm not free to do whatever I want since they are always watching over me.
It's much harder to live with your relatives than with your friends these days. Even though you are not blood-related to them, your real friends would still take care of you and treat you right. It's so very unlikely with some of your relatives who will just exploit what they can gain from you. You're very much lucky if you don't have these kinds of relatives but if you do, then you're damned.
---
Oh. It's getting further from the main topic. Let me go back. My place to stay is settled now. All that remains to be done is to claim my report card and my diploma from my previous school. I know that the school registrar will not give it right away. Maybe, at most, they will instruct me to come back after two weeks to retrieve it. I also have to take entrance exams to some public schools in that city.
Though I earn BCH, I can't still afford to enroll in private schools. So sad. Whatever, at least, I can continue my studies. I still don't even know if I can even pass the entrance exams. I haven't gone to school for four years already, so I forgot a lot of lessons. I'm even having anxiety just by thinking about that. May God help me overcome this.
If ever I can enroll and it's not that stressful at school, I would still try to find a part-time job, even though it would be a night shift. I shouldn't just rely on this platform or on earning cryptocurrency. As we all know, the prices are volatile. Any time of the day and night, it dips and at times it will pump. It's better to have other alternatives. I can't starve myself in another place if I lose my earnings.
Overall, my plans are already laid out and are ready to execute step by step. Once I got home, it will be smoothly done. I'm even excited about it. After 2 years of planning, it's eventually coming true in the coming months. My efforts will be finally pay off and I would be on my way to achieving my dreams for myself and my family. I just hope that I couldn't encounter something that could delay me from doing my plans along the way.
---
Ops. Thanks for being with me today. Thanks for reading! Images edited from Canva

You can also find me at;