Deep Questions On A Laid-back Sunday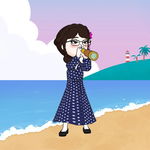 While listening to the song "Country Roads" in a Japanese version covered by Tsuzuri Zukuri, I lean my back on a garden chair while placing my feet above another chair beside me. I'm just trying to relax in a position like I was sunbathing indoors using two chairs. What more can I do? It's a rest day Sunday again! But my boss' family is as busy as a bee as always that even on Sundays, they always have a gathering to have a family bonding. Her two grandchildren's birthday is tomorrow but since they have online classes and regular work, they celebrated it in advance. Having said that, it was today and now they're all gone by the time that I'm writing this. I just don't feel like moving after the gathering and eating all the while, so I just thought of doing some prompts left, that I saved previously.
One of the prompts that I saved was from Ate @Ruffa wherein she answered some deep questions. I followed the source where she got the questions and found it on @Athaliah 's article that was written a week ago. Now here I am joining the prompt because I don't want to bother myself thinking what other topics can I write for today.
Then without further ado, let's start answering these questions where I chose here in this link.
It looks like it weighed the same and it's kind of tricky if you wouldn't give it a proper thought. For me, I would rank them this way.
1. Family
As our elders have always taught us while we grow up, they always say, "Family first.", and I clearly remember that until now. Wherever I go, I always think about how they have been doing though they don't even dare to check on me first. I often prioritized them over other things. Like needs, for example, I buy their needs first before I buy mine.
2. Career
Pursuing a career would be difficult without the support of your family, so yeah, this comes second.
3. Love life
I once thought that having a love life was a beautiful experience. A fantasy that came true in a world full of rainbows. Not until reality strikes, though. Because I once learned that it was not just about rainbows and butterflies but also about chewing lemon and licking salt. This one is tough if you are not supported by your family and you are still not financially stable.
I once kept a journal when I'm in high school but only write in my most depressing times when I have no one to talk to, but only the white pages of my journal. I wrote whatever I feel and whatever I could think. It's my only companion that comforts me whenever I feel down and the only one which can bring me back to the light whenever darkness starts to succumb me into that endless void of mind destruction. Whenever I got better, I instantly threw it away in the trash because those feelings were already considered trash, now that I'm relieved. Just kidding, I just don't want anyone to find it and read whatever I wrote in it. Considering that they are always having fun teasing me and spreading my secrets to other people, then they could make fun of me in public.
Definitely long patience and endless understanding. Even if you love each other deeply, but still don't understand each other, it will often result in quarrels too often over trivial matters. You'll still get fed up with each other. Then maybe, later on, you two would eventually split up. That's why aside from love, 'cause that's already given in a relationship, I want that long patience and endless understanding from my partner since I'm the kind of girl who has the worst mood swings and weird tastes.
Absolutely, a night person. I don't know why but my mind and body works that way. I'm sleepy and lethargic in the day but at night, though it's already midnight, my mind is still active as hell and it makes me want to explore the internet more.
I grew up mostly with my relative's care, so the one that taught me most about life was them. They taught me how to do small business at a young age which was the one who supported my high school studies. Then I became independent and capable of supporting myself, just only myself, though. Well, at least, I already got the knowledge of how to feed myself. Another one was to save money and to budget my income. They're strict about it, though they are pretty impulsive buyers. They taught me good and they do the bad ones.
---
Just 5 questions are enough. I'm going to save the other questions for next time. I hope you enjoy reading my answers. If you are out of ideas, kinda lazy to think of a topic, or you have writer's block, just refer to the link above and join the prompt.
Anyway, thanks for reading! Images edited from Canva

You can also find me at;