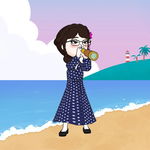 We all have that certain label that our friends and family have given to us. Some of them are based on our name and some of them are based on our personalities. They can also label us based on our body physique. However, some of those labels are merely based on our achievements, failures, or unexpected events that people can't forget about us.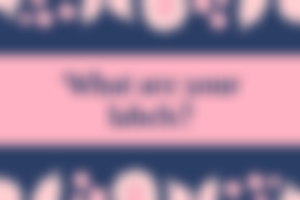 In my case, I have lots of it. Labels based on personality, my attitude, my name, and my body physique. Every day I can hear them calling me or describing by those labels, and each person has a different label for me. Among those, some labels have stood out and these are the "Alien, Weird, Unique".
But before I give my explanation for those labels, let me tell you first how I am labeled by my Mother when I was born.
Just a fact, my real name is FRITZIE. This name comes from an old dictionary owned by my mother when she was in college. My name there means "funny, informal, humorous". It's just kind of ironic that my name means funny though I'm pretty boring. But when you search that on the internet now, you can't see that meaning anymore. All the search engines will give you one meaning which is "peaceful ruler". This is somewhat true since I take a big role in the family now, and if you categorized it, I can be called the Matriarch.
And if you are ever wondering why my username here at ReadCash is Ayane-chan, I'll tell you. I just simply scrambled the letters of my mother's name, CHAINNEY, and make it sound like a Japanese name. When I searched for the meaning of the name "Ayane", I'm surprised to know that it means "beautiful sound". Whoah, I like sounds.
Okay, do you get it now?
Then, let's move to why am I labeled as Alien, Weird, and Unique.
Break it down!
I'm not good at socializing with other people so I always distance myself from others to avoid improper judgment or misinterpretations. I have few friends and I can count them all on one hand. I prefer to just find a quiet place to stay or sit at the edge of the room while listening to music. When my friends first saw this, they have different labels for me. They call me an outcast, invisible, and loner. Then, there's that one classmate that is watching UFOs on YouTube, just in a few seconds, they're all calling me Alien.
They said it fits me more. At first, I was irritated every time they call me this, and I distant myself more. As time passed by, I got used to it and I even call myself like that often. I and my friends will just laugh every time that someone would call me that, and even my friends are calling me this. I don't mind anymore. Sometimes we would make fun of it, and shift it to "Intergalactic Creature", then I'll call them "Uncultured Swine" because they're earthly creatures.
Well, I guess being called Alien sounds weird enough, right? But it doesn't end with that, there's more. The "Weird" label was because I have some hobbies and habits that are completely different from them. Like the genre of the music that I'm listening for example. I like listening to Metal songs at that time. They don't have any idea about it since they always go with what music is trending and in the mainstream.
Well, metal has many sub-genres like heavy metal, metalcore, alternative metal, progressive metal, power metal, et cetera. I like listening for all of those, especially when I'm depressed, I listen to harder genres than those. It is soothing to my ears while they're becoming deaf by it if they try to share with my earphones.
I'm also the only one who wears all-black clothes most of the time. Sometimes there is something that isn't black at my things but there will always be black in my outfits. Sometimes, they would say "Hi" to me and add "Condolence, dear". I just laughed about it and shrugged it off.
If you read the first and second labels, you already know why I'm unique. But there is still one more reason for this and that is because of my skin color and my eyes.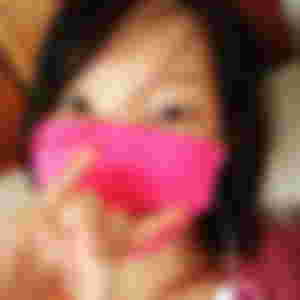 My skin doesn't look like the typical brownish color or the white skin color of a typical Filipino. It's more like the skin color of Chinese, Taiwanese, or Japanese people, though not as light as theirs, still, it is yellowish. Well, about the eyes, as you can see in the picture, I don't have to explain that, right? But I'm a pure Filipino, I swear. The labels like "Ching and Chinita" are made from this. It sounds cute, so I'm not complaining. I often stood out wherever I go, even though I don't talk to anyone. They will just approach me and say, "Miss, are you Chinese?"
It's funny sometimes when some people mistook me as a Chinese citizen and make hand signs when they try to talk to me. There are even Chinese tenants here at our residence who sometimes greet me and even tried to talk to me in Chinese when I was walking with my dog, King, at the park. My housemates will just make me a laughingstock afterward when we come back home.
*King is the dog in my article "The Best Team vs. The Moody One".
Of all those labels that they have made for me, I would never change my ways and myself again. This is who I am no matter how I try to change it. Whether they like me or not, I don't care anymore.
Ps: I'm not discriminating against Chinese but I like Japanese more. And if you like to know why I'll write another article about that. LOL 😆
Hello, @JonicaBradley! This is my entry for your 11th prompt. I hope you can enjoy reading this one. Thank you for providing another topic this week. This saves me from another headache from thinking about a topic to write.
Stay safe and God bless us all!
I hope you are all prepared for the upcoming lockdowns this next Thursday.