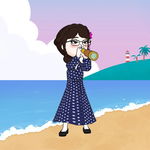 My mother said to me one day,
"Planting vegetables and fruits in our backyard can be a huge help. May it is not now, but when rainy seasons or dry seasons come, we are prepared."
She is fond of planting different vegetables and fruits. She often gathers seeds of them. She'll immediately dry the seeds and plant them around our house. She is more fond of it more than flowers. Maybe she has some flowers but those flowers are only Orchids attached to trees around the house, a huge tree of the old white Santan, and some pink roses.
Do you know what kind of walls and gates surrounds our home?
Our home is surrounded by mango trees, bananas, tar apples, and green mandarin oranges. I love green mandarin oranges the most. I remember those days where it's the season for fruiting of the fruit trees around the house. When we spot some ripe fruits, we will climb the trees and eat above the branches. Then our mother will scream her lungs out of nervousness if we accidentally fall to the ground from the higher branches. Those days were more fun than pulling an all-nighter at the computer shops just gaming with friends. I miss those days already. I hope I can go home next year so I can relive those days.
---
I'm reminiscing about such things because a few months ago, Madam mentioned that it might be good if we can plant here some vegetables in the backyard garden. The prices of vegetables in the market are doubled in this pandemic, so she was thinking of a solution of how we can save some money from shopping every week. The problem is we have limited space and she spent a lot beautifying her garden's landscape. Since this might be a huge problem, we disregarded the thought.
A month ago, we found empty pots that are hidden by the gardener and had an idea. We tried to dry some seeds of riped bell pepper from the market and planted them. We were all overjoyed when the seeds sprouted their leaves and grow taller. It grows a lot faster because the gardener just put a lot of fertilizers in the Palmeras, so did the Bell Pepper received some of their blessings. Now we have this one healthy and fruitful Bell Pepper blending amidst the Palmeras.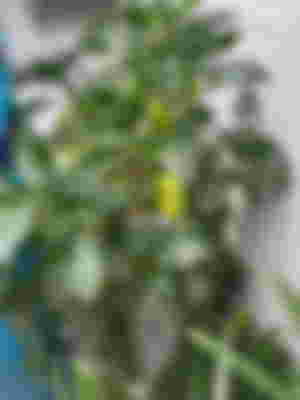 We can harvest 2-3 Bell Peppers in that one plant. Just enough to spice up 2 menus. If we buy those in the market, it is quite expensive. Maybe it's ranging now for up to Php 285.00/$5.60 per kilo. We are cooking a lot every week for the employees' lunch at the office, so that's quite a savings already.
We also planted Wild Chili (Siling Labuyo).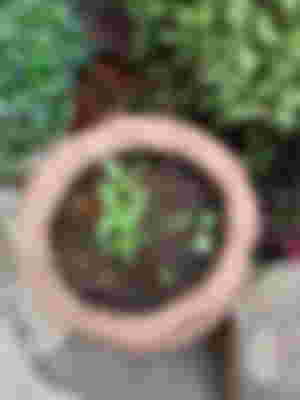 It's still small now, just about 2 weeks old. I will replant the others somewhere if it grows taller. We are using a lot of these in our menus since most of the Employees at the office are Bicolanos and they like spicy foods. Not all Bicolanos do like spicy foods, I guess, but the ones at the office said they love it. So we tried planting the seeds, aiming to minimize the volume of Wild Chili that we can buy at the market.
---
Another seedling that I have is Tomato.
I spread the dried seeds at this pot planted with a Sword plant. It looks dying, so I took advantage of the space. I'll just replant it somewhere if it grows more. I'm still looking for another pot to replant the Tomato seedlings. We also used a lot of these. Since they are cooking a lot of oily foods here, my Aunt includes this on some servings. Like when she cooks fried fish, she'll chop 2 to 3 pieces of tomatoes and sparkle a little bit of iodized salt in it, mixed and then include it in the serving. Just to balance their diets. You can pair it also with Adobo, Smoked Fish, and Marinated Milkfish.
---
We also planted Malabar Spinach (Alugbati). The boys planted it in the plant box above the Lanai, so I can't take a picture of it. For Non-Filipino readers, here's how it looks like.
Image source: Home Remedies 101
It's delicious when you sauté it with minced garlic. You can also cook it with vegetable soups.
Sometimes when we take a walk around the park, we will pick some branches of Moringa (Malunggay) and cook them in Tinola (a Filipino dish). May it is fish or chicken, it can be cook also in vegetable soups. We have some generous neighbor here that is giving away their branches of Moringa every time the leaves became lush again. I like to eat Moringa leaves in dishes. To an anemic person like me, I need that in my life since it has a lot of iron vitamins. I'm even taking Moringa vitamins back then because Ferrous Sulfate tablets taste like rust and I can't swallow its bad taste.
---
Lastly, we have this Oregano plant.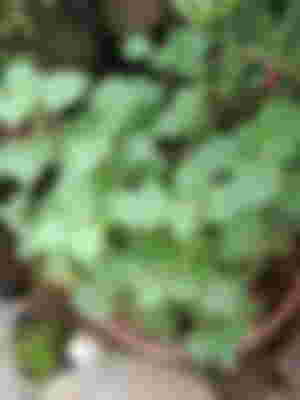 It's not for cooking but it's our remedy when cough and sore throat have their way to the barriers of our immune system. It's tastes like a bitter mint but it's quite effective in alleviating cough and sore throats. Just look at how leafy it is. It's satisfying every time I stare at it, perhaps I just missed the countryside so much that I'm overjoyed every time I see those kinds of plants.
---
Do you also have plants in your backyard or garden? How do you plant having a little space at home? What kind of plants do you have there? Let's talk about it in the comments.
---
Seeing these lively plants make me more energetic every day. It's like I'm on a full battery instantly when I those leafy, lushy, and bushy plants. I'm so overjoyed seeing the fruits of Bell Peppers that I can't stop myself from sharing it here. So allow me to update all of you when my tomatoes and wild chilis bear some fruits.
Thanks for reading this blog until the end. See you next time. Stay safe and God bless us all!
Here's your motivated Farm Girl,

bidding her goodbyes and good night.