Age Matters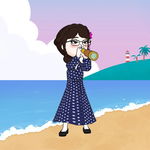 We have different experiences regarding love interests and relationships. Some end up together and are happily married. Some also end up together but still got separated in the end. Some have part ways before their relationship even started. Some people haven't even got the chance to confess their love.
We have different stories to tell, as well as I have. As what had other writers have been sharing recently, let me share mine, too. It may be a bit boring but I still hope that you'll be entertained.
---
Flexing my amazing sponsors, and you may check their works, too. By the way, thanks to @mommykim, @OfficialGamboaLikeUs, and @wakeuplincs for renewing the sponsorship.
---
Before I start, let's name this guy, Dean.
I met this guy when I was 16, in Grade 10. He already graduated and we have a 9 or 10-years gap at our age. He still refused to tell me his birthday even now. He was our Tactical Officer at our Citizen Advancement Training. He visits our school every day to train us all. Then, one afternoon, he passed by our store in front of our school where I always help my aunt after class. He bought snacks from me and stayed for a while. Unexpectedly, he keeps on asking me questions about our school and I felt like being obliged to answer him every time.
It seems like he enjoyed talking to me, and the next afternoon, he also bought snacks again. The same thing happened the next day and it became an every afternoon routine for him. Sometimes, I get curious about what he has been doing inside the school, so I purposely pass by the CAT office even though my class was far from there. He was commanding the officers and was even reprimanding them. That's a bit intense and scary for me, so I just don't look anymore and go on walking faster. But then when I was a little far away from them, he suddenly shouted, "Pretty Fritz!", that it made me suddenly turn to them. That's was awkward and embarrassing. LOL. All the officers were looking at me and some of them are even my classmates. Then, there he was just smiling widely at me.
Aside from him buying snacks at our store every afternoon, we became even closer when I decided to take an entrance exam for Philippine Military Academy. I gathered all the courage I have to message him in messenger and ask for some advice regarding the test schedules and the exam coverage. Well, he was fast and willing. He even keeps on encouraging me to pursue it but my Aunt was against it. Even so, I still take the test. Unfortunately, I failed. Ouch. I never lose hope though.
I decided to try taking the test for enlistment in the Philippine Air Force. I ask him for advice again since he is a Philippine Air Force Reserved Officer. He was very supportive about it that he even come to the examination site and introduce me and the other students to the Proctors that he knew. After that, we ate lunch at my friend's house near that location. He still followed us and keeps on walking by my side. He often talks to me, and rarely to others. My other classmates are already whispering at the back, maybe already having a hint. I also sensed it but I'm not that assuming to assume, so I ignore it.
Even when we are riding on a jeep to school. He placed his arm around my shoulders, so I wouldn't get bumped by the other passengers since it was crowded. My classmates are looking at us but I can't shrug him off since it was crowded. We came back together to school but we don't have any class for the next period and our store was closed back then. My classmates report to the CAT office because they are all officers except me. As for me, I don't have anything to do at school.
He helped me get out of the school by telling the guards that my Aunt needs me at the store, though it was actually closed. He invited me to roam around the downtown before going home since it was still early. I just agreed because if I come back home that early, surely my Aunt has a ton of tasks for me to do. We went to the mall, just roaming around while talking, and his hand was on my waist. So every people he knew that we met, just looked at us and smiled as if they already understood what was going on.
Well, I don't really understand what I felt for him back then. I just knew that I enjoyed his company. Then he said to me that he will court me when I become 18. After that, we rarely met and he stopped messaging me. He said he was also busy with his training as an Aircraft Mechanic. He got a lot of skills, whoah. Silly, but I have hoped and waited for him when I became 18. I just graduated from high school but he still didn't start to court me, so I just assume that maybe he just said it on a whim or he might have found a girlfriend already.
I went home and found a job. Also, I got a boyfriend then and the rest was history. When my boyfriend and I broke up when I was 20, I made another Facebook account. Just a few days after I made it, I saw a message from him saying that he finally found me. LOL. We have a lot of talks and chitchats. He then, confessed that he really had loved me back then but I was a minor. When he finished his training when I was 18, I wasn't there already and he can't contact me anymore. Yeah, 'cause I changed my contacts and deactivated my Facebook back then since I don't want to come back to work with my Aunt anymore.
I was even surprised that he perfectly knows my attitude and personality. He even knows a lot about me including all my Facebook accounts. He said that he became my stalker in pursuit of finding me. That would be a nice comeback if ever but, sadly in hopes of finding me, he found someone else and they are getting married now. Good for them. Right now, we are just good friends that always talking about anything and laughing all over the phone. Then, we plan to meet up when I came back home to have a drinking party with our friends. LOL.
Since then, I never believed in the saying, "Age doesn't matter." It often matters and we have to always put it into consideration. Think about the consequences that it will bring to both parties. But yeah, maybe it's not age that brought us apart but the timing and miscommunication, still, it was the age difference that had played a big role in making us apart and made us move on from that phase without even starting anything.
---
That's another tragic encounter in my life. Thanks for reading! Images edited from Canva

You can also find me at;