A Surprised Visit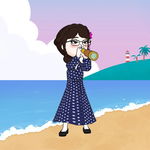 This pandemic has restrained us from going out, gathering, and traveling. We wanted to be with our family members but we can't because of the fear of contracting the virus. It's been two years since the lockdowns were implemented to contain the spread of the virus and free our country from this pandemic. That two-year battle has been hard for all of us but worth it since we can enjoy our normal lives even if there are still some restrictions on the movement of the people.
Cases have been lowered down right now. Yesterday, I heard on the radio that it was only about 300+ cases of people who got positive for Covid-19. It has been a long time since we saw our Aunt and my younger cousins who already lost their father and had been abandoned by their mother. Our Aunt took care of them and my other Aunt here who is also working here with me in Madam's company often gives support to them every month —either in cash or in kind.
Since it's safer to travel these days, we take advantage of it. When Madam heard it, she was deeply touched by my Aunts' kindness toward my younger cousins. She asked a driver to give us a ride going there and also gives us a sack of rice, groceries, and Php 5,000 cash to be given to them. Since it would be late when going back, she also gave us pocket money for our lunch.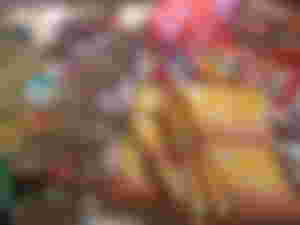 Madam just took those from the pantry at her house. If she heard about it a week earlier, maybe she has already bought more of it. Even so, that was already a big help to them. It can already be their supply for a month or two since they are only 5 people there.
Before we get there, we got lost twice. My Aunt has already forgotten the way to get there since the place is at the edge of the village. She said that the place has changed a lot that she can barely recognize it. She hasn't been there for almost 5 years. We just asked some random strangers along the way for directions. Good thing, they gladly helped us. I told my Aunt to call her Sister so they can help us with directions going to their house but she said this is meant to be a surprise, so she doesn't want to spoil it. She seem to be stressed by being lost twice, so I didn't bother her anymore.
When we get there, their house is the only one undeveloped in the place while their neighbors have nice houses with second floors. They have 3 dogs tied in front and we got scared at first because they were aggressively barking at us and maybe if they break free, they might bite us. They were cooking in front of the house using dried wood because their gas tank had run out and they don't have money on them to buy a new one.
We went inside to see my two younger cousins; the eldest is a boy and the other one is a girl. The boy hides immediately when he heard that they have visitors while the girl stayed to greet us. They said that the boy is usually like that every time that they are having visitors. He is too shy to socialize with anyone. He even doesn't play outside with other kids of his age or go to parties when their neighbors invite them. The girl is the exact opposite of him. She willingly talks to us and sits with us the whole time.
After dropping off all the gifts, we leave them already and went to find a place for us to have lunch. On the way home, we passed by SM Bicutan and we decided to eat there.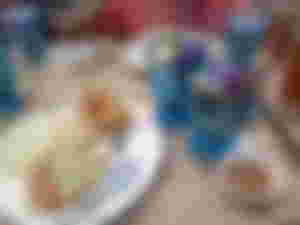 The two old people requested Halo-halo because they felt hot from the weather, so we headed to Chowking and ordered. We just followed what they wanted. I'm not fond of eating outside, ordering, and other stuff like that. I just like drinking coffee outside to taste a different kinds of coffee beans and the type of how it is roasted to have that aroma. They don't like to drink a coffee before going home, though, so it's a majority wins and I'm left with that option.
I just get along with them, so there wouldn't be any problem. We ordered another three Halo-halo and three burgers on McDo for take-out. We would give it to the people left at the house. We also bought four orders of Shawarma Wrap at Shawarma King for them. We don't want them to get envious of us because we got to go outside while they are not allowed.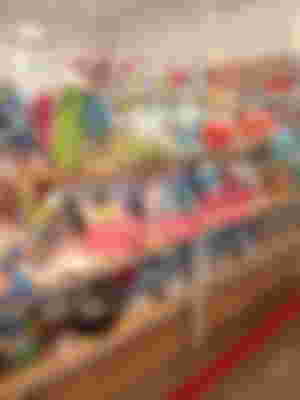 While they are waiting for the take-out order, I pulled the girl who will replace me here in my position to Minisō. She is always calling and watching movies on her phone without an earphone. It is really loud every time and it is also one of the reasons why I can't focus on writing previously. I know that she doesn't have money on her, so I bought her an earphone and just gave them to her for free. It's just Php 299 and just a small price in exchange for the peace of mind that her silence can give me so I can focus on doing my extra miles.
I don't hate her even if she is noisy but the oldies in our room were also complaining about it. I just bought her one and told her to lessen her noises, so she wouldn't anger them or disturb their rest. I let her choose and she chose pink earphones with a We Bare Bears design and a small pouch. They checked if it is compatible with her phone on the counter and it is also fine. I paid for it and then we left. We waited for the two oldies and the driver at the parking lot in the basement and set off when they went down.
---
That's what has Madam said when my Aunt tried to stop her from giving us too much. But she was stubborn, so we don't have a choice but to receive all of it and gave it to my younger cousins. She may look like that kind who have a bad attitude when you first see her and from the way she talks but Madam is really a nice and kind person. People like her are rare. If she is just not that generous to her employees, she might be a billionaire now. However, she doesn't aim for that. Every time she gains a large profit, she would allocate a portion of it to distribute back to her employees. May it be in the form of cash, groceries, or extra bonuses. She couldn't bear to have a good sleep while her employees are having problems but still doing a good work in her company. May God bless people like Madam more, so they can help a lot of people.
Anyway, thanks for being here again on my blog, and thanks for reading. Lead Images edited from Canva

You can also find me at;