A prompt for now: Which is worse?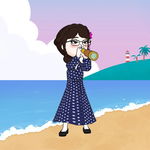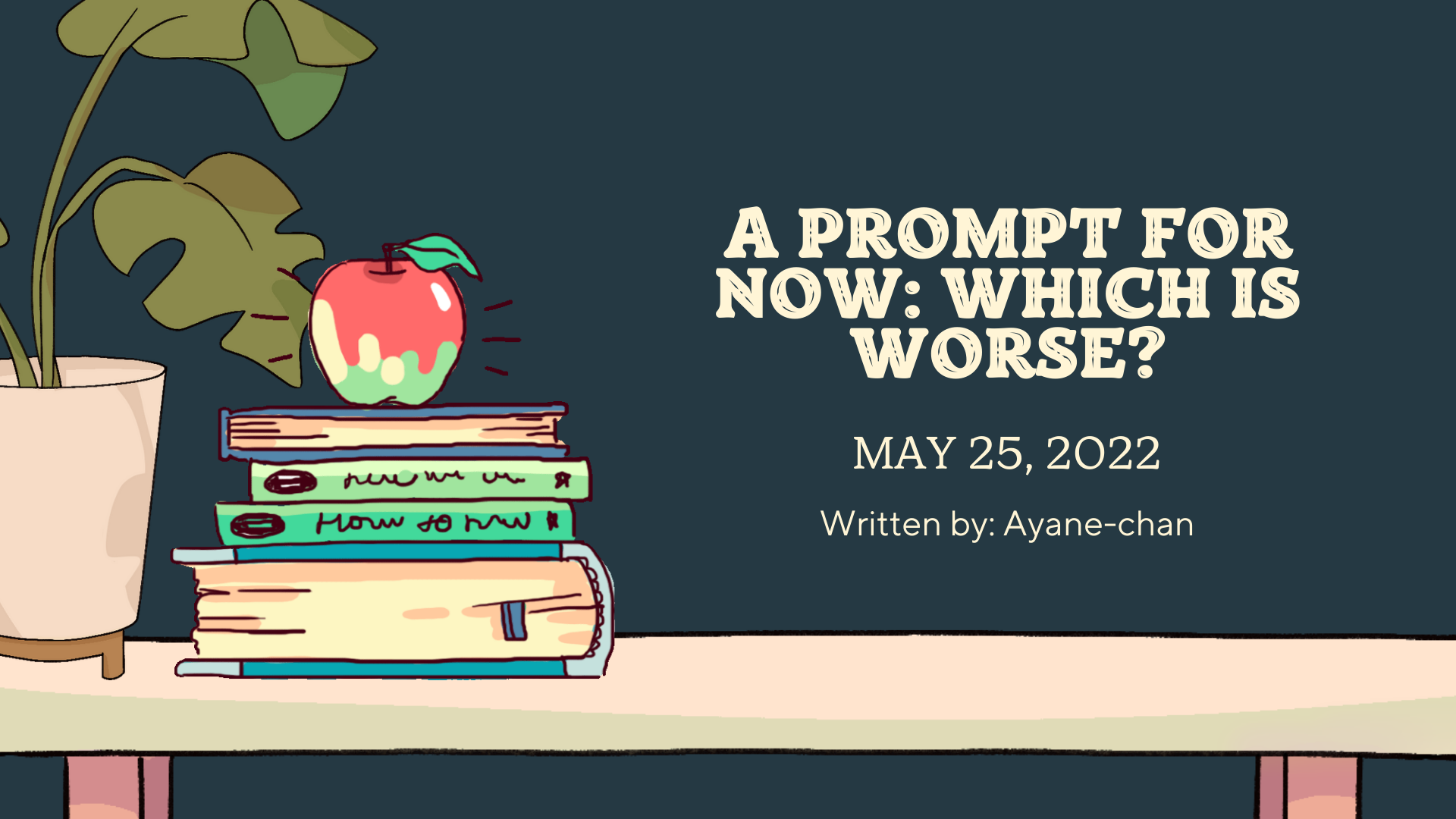 I have been doing some chores in my room since this morning. I get tired from doing my laundry and so I lie down for a while. Then you know what happens when your energy got relaxed and went down, right? It's laziness to the moon! It's like you never would want to get off your bed and do something. Not even taking a bath or cooking for lunch. But kidding aside, of course, I still took a bath.
Then, rain poured heavier earlier making me not want to get off my bed more but I remember something that make me rush downstairs. You know what? My laundry. Teehee! Though, it forced my body to move doesn't mean that my mind goes along. It is still stuck in "rest mode" and I can't regain my focus to write what I want though I have something in mind. I don't know if you can call it a writer's block or just a mental block. You choose for me, but for now, here's a prompt to fill the gap rather than abstaining for this day.
I have been reading this from a lot of writers here since ages ago and maybe initiated by Kudo-senpai again. I'm not sure anymore, but yeah, here it is.
Let's go.
If you think about it, both of these are worse things to do since both of them committed betrayals. But if I'm still going to choose which is worse between the two, I'll go with the evilest thing. For me, it is to break a promise. When you are making a promise with someone, you are also making them hope for something, and expect things to happen, they will make adjustments for that, spare some time, sacrifice some things, and will give their trust to you in that matter. Then, in the end, it was just all a bluff? You didn't have a word.
Well, being late for a date is a lesser evil to me. At least even if you're late, you still stand with your words that you'll come and also being late has more reasons behind it. Just what if, there is a traffic jam on the road, right? Unlike breaking a promise that once broken, there is really no hope or repair for that. It is what it is when compromised.
I think I'm not going to find this hard enough unlike the first one above.
Yes, getting rejected is surely painful and worse but for me, it's not the worst. Well, at least, you told your crush about it and let them know what you feel. Even if they rejected you, at least, there is closure. You wouldn't be guessing every time anymore if there is a chance or not. If your crush rejected you, then you surely know what to do next. It's just either you pursue them to make them like you or just give up and move on.
On the other hand, what is worse for me is your crush doesn't know your true feeling for him/her. What if you got a chance? What if they like you back? The possibility of the worst-case scenario that they will reject you is inevitable but as I have said earlier, there would be closure if you say so and you wouldn't keep on guessing anymore. Oh, please. Though it's exciting to feel that thrill of guessing, there are more important things to set your thoughts on than thinking about your crush's feelings for you all the time.
This is a no-brainer for me since I'm not a fan of superheroes. I'll get hooked on watching magical, mystery, and comedy movies more than those Marvel or DC Superhero Movies.
So yeah, I'd rather cry over a dog who died in a movie. One of the movies where there are dogs that I love is Max. The dog doesn't die but almost. The story is touching and lovely. I highly recommend it for you to watch. You wouldn't cry because the dog dies but cry because it's too touching.
Easy-peasy. Sending a screenshot to the wrong person is much worse, like much much worse. No matter how important, confidential, nonsense, or whatever it may contain, it is still your data accidentally leaked to other people. You have put your information at risk.
Liking an old photo of your crush is fine, I guess. What if you're just using a dummy account? You wouldn't get recognized anyway, so there is no risk. If it's your real account, it's not really that noticeable. If they call you a stalker, then tell them not to post their pictures in public if they don't want them to get liked.
Hmm, too cold, for sure. I don't like cold drinks. I easily get a clogged nose or runny nose every time I drink cold drinks. That's why also I get friends with coffee because I like it hot.
---
I think I'll just continue this tomorrow my arms are starting to get numb every time I type some words so I'll just give this a rest for now. I think that's already enough. I'll just make a part 2 of this prompt tomorrow. Also, I'm already sleepy and tired from all the chores that I did today.
Anyway, thanks for reading!
Lead Images were edited from Canva

You can also find me at;