Writing prompt 2# write about your grandparents...
At night I slept at twelve o'clock and it was very hot in the room despite the fan running. But when I woke up in the morning the weather was so good. There were clouds and the wind was blowing which refreshed my mood in an instant. Have you ever feel the morning breeze with your closed eyes? I feel a different kind of joy by doing this. Thank God so much for this lovely day.
Today's article is about special people. And those who have such special people in their life, are really very lucky. There would be a different kind of love with grandparents, which if we could describe in words, words would fall short. If there are grandparents in the house,then there is prosperity in the house. My father's side grandparents is no more. But there are grandparents on my mother's side. Alhumdulillah. Sitting with them, I don't know the time. Their words are so simple. Their words are pure in every sense. When I go to my grandparents house, they are the only people whose company I like the most that I do not want to return home.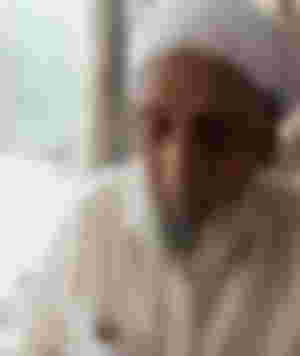 He is my grandpa of my mother's side. If I talk about his nature, his nature is very sober. My grandpa don't get along well with people. It seems to me that, he observed a lot in silence. If someone slanders someone in front of him, he scold them. And I really like that habit. My grandfather was 12 years old when India and Pakistan separated. And one day I sat down with him and listened to the whole partition story of Indo-Pak. I remember when I was listening to this story, I feel that my grandpa got lost somewhere. It was as if he was gone in the past. He said he faces many problems in childhood. But now my grandpa condition is not good. He has become very weak. Please pray to my grandfather to get well soon.
Sorry, I can't share my grandmother's picture here due to privacy. But you may remember that I wrote an article about my grandmother. If you haven't read that article then I share a link of that article. Here will be link:
https://read.cash/@Ayaan258/59-years-apart-gossip-with-my-grandma-9efc4fe0
When you read this article you will know the bond between me and my grandmother. We both have a friendship like that of a child. Her nature is very jolly. She has a special place in my heart. The best thing about her is that she wins everyone's heart. I can say that if a person wants to get rid of his tension, he can sit with his grandparents for a while and find peace.
I think that's enough for today. I hope you like it guys. Thank you so much for your precious time. I really appreciated you guys. I hope you spend your day with full of happiness and prosperity. Don't forget to help others because this small act makes your day very peaceful. Have a great Saturday.
Lead image: From Pinterest
This article written by me and yeah it's 100% unique.
Also check the articles of my beautiful sponsors guys. You must learn and gain some knowledge from their articles. Thank you so much my dear readers and sponsors. You encourage me to stay here and write articles.
Stay safe, stay happy and stay healthy. Have a blessed night guys.
Peace .....