Guess guys!! What I have made today?
This is the first time, I made pizza today.
We were the whole family sitting together. My mother had a headache. She didn't cook because of the headache. She told me to order food from the restaurant. I told my mother that I would make something to eat today. After too much thought, I decided to make pizza. I was told to make pizza but I had never made it before.
At first I thought I would forbid it. But then I encouraged myself that you can do it. I first came up with a homemade pizza recipe on YouTube. I watch "without oven recipe of pizza" on YouTube because our oven was not a baking oven. I went to the kitchen and saw cheese first because without cheese, pizza is incomplete. No, I think pizza can't be called pizza without cheese hehe.
Well the cheese was in fridge. It's my good luck that it's available in my fridge hehe. Anyways first of all, I cut onions and tomatoes. But wait the main texture in pizza was capsicum which is not available in home. I told my brother to bought some capsicum. He left to buy capsicum at my first request because he knew I was making pizza. After a while my brother came. Then I cut capsicum in finger style.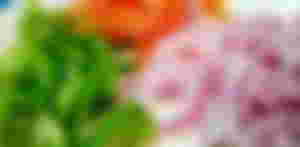 When I cut these things, the next step to make pizza sauce. There was no pizza sauce in home so I decided to made it by myself. I took ketchup and added coriander powder, cumin powder, black pepper and chilli flakes. And add a pinch of salt. Then I mix the mixture and this kind of paste was made.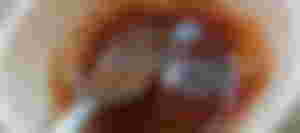 After making this sauce I cut the chicken in cubes. I add red pepper and salt and one clove of garlic in chicken. And fry them.
After fry the chicken then I make the dough of pizza. I take one cup of all purpose flour, then add pinch of salt, 1 spoon oil,and the main ingredient yeast. I added some milk in it. And knead the dough. For a while, I covered the dough. But unfortunately I forget to take the picture of dough.
Anyways, I take the dough and spread on nonstick pan with the help of fingers but you can also use rolling pin. I grease the pan with oil. And spread the dough. After that, two to four minutes, I cooked both sided of bread on low heat. When half of bread fry then I spread pizza sauce, after that I sprinkles cheese. Then I spread chicken, capsicum, Tomatoes, onion to make the topping of pizza. At the end I also add a lot of cheese on the top.
At last I cooked pizza in very low flame. Don't forget to cover the lid. When the cheese was melt. Its mean pizza is ready.
Taa Daaaa , the final look of pizza is: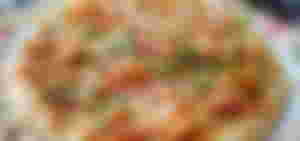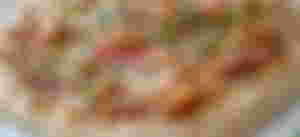 The best moment for me was when everyone was praised me. Believe me the taste of pizza was on another level. I hope you like my effort. But the condition of the kitchen was very bad.
Note:No one helped me to make pizza. Its all the result of my own hard work. Haha
Plagiarism:
It's written by myself. And yes it's 100% unique.
Also check my sponsors guys. You definitely learn and enjoy from their articles. They encourage me to stay here for writing more and more here.
Stay happy, stay healthy and stay safe. Have a blessed day guys. :)
Peace......