House Tour: Interior Part
Konnichiwa minna san wa! It's me again Athaliah the Minecraft Addict lol.
Most of you here already know that I am a Minecraft addict and I won't deny it though! I've already published several articles here in read.cash featuring my minecraft works and most of it are modern houses, but I was not able to show you the interior part of it because my laziness and procrastination made me failed to write about it. Nevertheless, I will show it now to you the interior design of my latest Minecraft house. Hope you like it!
Have a quick peek of the exterior design of my modern house, just hit the link below!
https://read.cash/@Athaliah/adios-my-small-community-5de8accd
---
Minecraft was made to awaken our creative and imaginative minds. It is not just a mere game for youngster and even adult gamers but it is very beneficial for everyone most especially those people who loves exterior/interior house designing, you know why? You can be an Architect of your own. It brings out your innovation skills and resourcefulness, and somehow gives a great feeling of fulfillment from the moment you saw your beautiful masterpiece. So, don't blame me if I got addicted to this gaming app.
Without any further ado, let me start with...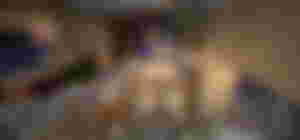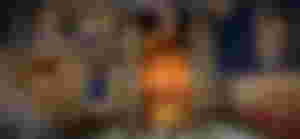 As you can see, it has a huge classic chimney with a huge painting above on it, and in front of it was a comfy white sofa (I used the white stair blocks), a small wooden table with a vase at the center and below was a gray carpet. Moreover, since there's no chandeliers available in the game I used the lamps and hanged it with a chain above instead. just made it simple because I don't want it to look overcrowded with so much furnitures. I want to make some changes specifically the space of the house and I will start renovating the house itself tomorrow I guess if I have some spare time. (Charr super realistic 😆). This may not be the ideal living room you've ever seen but I am still open for more suggestions from you guys, it would be highly accepted and appreciated by me.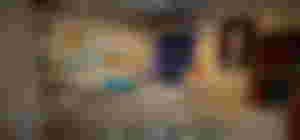 Blue is my secondary fav color, and that bed says it all and it is basically a kids bedroom. simplicity was shown in this bedroom, and I preferred it that way. As what you have observed, there are so many plants out there, I just loved flowers and it adds color and life to that bedroom.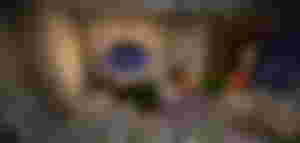 This is not done yet actually I still have a lot of things to add and make it more fancier. It has a small television a small library at the right side of the red bedrooms which is good for couples but not recommendable for kids because they might fall (second floor kasi tapos medyo di sya safe for kids talaga).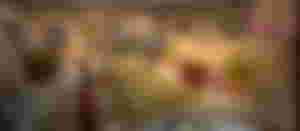 If I would rate this, I will give this a 7/10 why? because I still find it dull and unorganized. Moat specially the dining table I forgot to change it, and I am supposed to change also the design of the kitchen by putting some lighter and modern materials in it.
---
There you have it guys! I am totally in love with this gaming app because it gives me the opportunity to visualize and customize my dream house. And I don't have any thoughts of uninstalling it. 😅 Anyways thanks for dropping by!
Have a great day ahead!
Thank you dear sponsors! 
CHECK THEM OUT!
Sayonara!
All images are mine