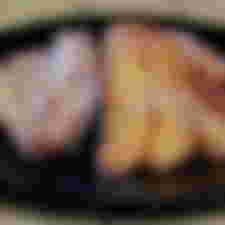 Maruya are the ideal bite or treat! Covered with a cushy player and singed to brilliant flawlessness, these banana squanders make certain to be a family top pick.
I was up throughout the night the previous evening looking for the umpteenth time past periods of The Strolling Dead on Netflix. Like the remainder of the world's female populace, I can't get enough of Daryl Dixon. He must be the most delicious, I mean, the hottest man alive.
Anyway, wipingdrooloffmyface, when I turned up at the beginning of today, I had a beating cerebral pain and was in desperate need of an enormous shock of both caffeine and sugar. My morning cappuccino was simply an issue of a Kuerig button, however a bit of something sweet to match with my cup required more exertion.
A snappy player later, I was appreciating pleasantly fresh, sugar-cleaned maruya with my morning jo—most ideal approach to begin the day
Cooking tips
To keep the maruya from self-destructing, utilize ready yet firm bananas.
Cut the bananas into uniform thickness to guarantee in any event, cooking.
To get ready "pinaypay-style", cut every saba vertically into three to five cuts without going completely through toward one side. Deliberately spread the cuts to make a "fan" and dunk in the hitter to cover.
For a fresh hitter, utilize very much chilled milk.
Don't overmix the player; mix just until saturated.
For most extreme firmness, ensure the misuses are lowered in oil when fricasseeing.
Cook at the ideal temperature of 350 F to 375 F. Excessively high and the player will consume before adequately cooked. Excessively low and the wastes will retain significantly more oil.
Try not to pack the container; fry in bunches varying.
The squanders take around 1 to 2 minutes to cook for every each side. When air pockets show up on the head of the squander and the base is brilliant earthy colored, cautiously flip to the opposite side, and keep on cooking until sautéed.
To include another layer of flavor, blend ground cinnamon with the sugar for covering.
Fixings
1 cup flour
1/2 cup sugar
1 teaspoon preparing powder
1/4 teaspoon salt
1 egg
1 cup cold milk
2 tablespoons spread, liquefied
canola oil
6 ready yet firm saba bananas, stripped and cut the long way into around 1/4 inch-thick
Directions
In a bowl, filter together flour, 1/4 cup of the sugar, preparing powder, and salt.
In a huge bowl, beat egg.
Gather milk and spread and speed into a single unit until mixed.
Add flour blend to drain blend and mix until just saturated. Don't OVERMIX.
In a dish over medium warmth, heat oil.
Dunk banana cuts into player to completely cover and delicately slide into hot oil. Cook for around 1 to 2 minutes on each side or until brilliant and fresh. Expel from dish and channel on paper towels.
Utilizing a fine-work strainer, dust maruya with the rest of the sugar. Serve warm