Recently blockchaincenter.com launched an interactive map that visualize the regional interest in top-10 cryptocurriencies including BTC, ETH and other eight currencies. Map was developed with the help of Google Trends. In the ranking of the top-10 cryptocurriencies, the most popular as well as cryptocurrency with highest MarketCap Bitcoin ranks top with the total dominance of 80.8%. Blockchain enter.com also noted that the MarketCap does not affects the real-world interest.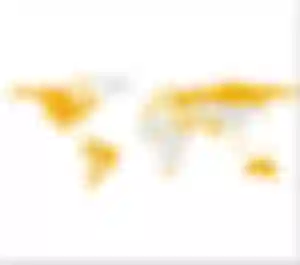 Dogecoin is not in the Top 30 by market cap, for instance. Yet it is placed in the Top 10 of most searched cryptocurrencies.
As Bitcoin tops the list, Ethereum stands on second position with the 13.7% contribution in search interest. XRP, ripple's native cryptocurrency took the third position with the 7.7% search interest. Here is the overall world popularity ranking of cryptocoins :
Litecoin (LTC)            :      4.7%

Bitcoin Cash (BCH)  :      2.7%

IOTA (IOTA)               :      2.5%

Monero (XMR)          :      2.1%

TRON (TRON)           :      1.8%

Dogecoin (DOGE)    :       1.8%

Cardano (ADA)        :       1.5%
Interesting Observations From Map
Bitcoin, the king of crypto dominates the map with total search interest of 80.8%, in all countries over the globe. 

Germany is the only country which is preferring IOTA over the Ethereum which(ETH),  shows that Germans are standing out in the list.

Kenya tops in the list of Bitcoin maximalist countries with 94.79% search interest for the Bitcoin (BTC)

While finding the Bitcoin maximalist continent the South America leads the race with 4 countries making in top-10.

Asia is the most open for other altcoins, which shows that they're the most adoptive to the crypto world. 
This is the overview of search interest of the crypto coins over the globe. Keeping our differences apart crypto brought us all together and more and more members are joing our crypto community which is definitely a great news. 
Hey friends subscribe me for more content like this and please send your feedback about this content.