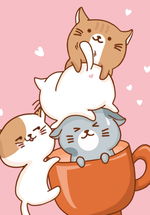 In my childhood, i have a a lot of weird thing that i do in food. My mind is so crazy so i do this. I have a lot of idea came on my mind before. Some of the things that i do is also just see in my brother and the other classmates.
I know that playing food is bad because many people didn't eat everyday because they didn't have a money to buy, but didn't gets it before and didn't know about that. I just ignore and and do it🤣. I playing marshmallows and also eat it too but sometimes when i do it, my mind said YUCK.
Before, my brother buy a marshmallows and playing it. Of course i also do it because i think it's so fun to do it. I buy a marshmallows and do it also. I will turn it to shape of circle, square or mix it🤣. I repeat it until the marshmallows is become sticky. So when i will open my fingers wide, it's like a cheese in pizza that it's become longer 🤣. I will eat it when I'm done in playing it.
I'm not like a cake now because it's so sweet and i don't want it, but before i try to make a cake but it's not like a cake that we buy in the bakery.
First i will buy a fudgee bar for the bread. I just buy 1 pieces because the 20 pesos is big for me. Then i will also buy a nips for the design. Stick-O for the candle and choco stick for also the design. I will just combine it and it's now a cake🤣. Do you also do this before?
Do you see a candy that called stay fresh? The taste of it is fresh so it's called stay fresh🤣. There's many ball in the plastic. Before we always buy it because it's many. I love also the taste of it so we also buy it.
But one time, we try to put it all in the cup with a some water. We just stir it until it's melted in the water. Then i will drink the water. The taste of its is like a stay fresh of course. We just put a little water because it's you're water it too many, you can't taste it and just taste the water🤣. Do you also do this? The taste is good for you? Or it's just me?
Do you also do this before? Me, YES. Nips or any candy that the shape is circle is i think that this is a medicine. The medicine that we drink when we have a sick is sometimes circle. So before, im pretending that nips or any candy is a medicine. I put the candy in mouth and drink water.
I think many of us also try this when we are child. Stick-O is like a shape of the cigarette. So sometimes i hold the stick-O like the cigarette then blow🤣. I just also see this in the other children and i also do this🤣.
Before when my mother buy buko to juice it. When i drinking it, there's many buko at the bottom. I put the buko in a staw and i will eat it. I will eat it like a yogurt. I don't know i do it only me.
Do you know the gelatin that we buy in store? It's worth of 1 pesos each. Before, when we have a condensed milk, i buy 10 pieces of gelatin and remove it in the plastic. I put it in a bowl and add some condensed milk. I love gelatin so i make it🤣. The taste is so good. Do you already try it?
Before, my teacher sell mik mik in our room. Many students buy it and do something. They eat it all and blow. The mik mik powder will be like a smoke🤣. It's so fun do it but when i try it, it's failed because the mik mik is already gone🤣.

Do you also try to do that thing? Do you try this all or just some of it? Or it's just me? Share it in the comment section of this article. Feel free to share your stories 😁.
Now, this is the end of this article and i hope you like it🥰. Thanks for reading this article and also the other. Thank you very much💚💚.
Lead image not mine. Source: From Pinterest 
My 5 recent article