June Achievements: Goals Check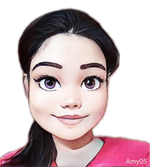 A great reminder that no matter what we're going through, time won't stop for us just because we're not okay or not. So, what we can do is get up and move forward, just like this time, we are going to step on another month, July.
I can't believe it's really the last day of June and with that, what I'm gonna do for now is to look back and check if I did achieve my goals that I set from the very first day of this month.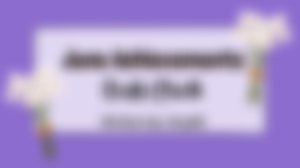 I thought, laziness will hit me this month, but I'm proud to say that I achieve this goal of publishing a total of 20 articles (including this one) for this month of June.
Even though at first I thought that I'll publish more than my goal, the stressful events I've gone through this month made me got some absences in writing/publishing yet I still make sure that I'm still going to achieve my goal.
Though, rusty is a bit aloof which I clearly understand because of the shortage in funds, I'm proud to say that my motivation in publishing a decent amount of article here isn't only revolving around the rewards, but to better improve my writing and communication skills more.
I'm already used to posting in noise.cash about anything under the sun and so, I also achieved this goal of posting at least twice a day. I didn't exactly count the total number of posts I've made because those are quite numerous.
Aside from my achievements in posting, I am also happy that I got new subscribers, from 1870 to 1902 (as of now). Road to 2k na this. HAHA
For this one, I don't think I got the right amount of sleep I need because since I had too much tasks to complete everyday, I mostly got little time to relax and had my "me" time. Though, there are days I slept well, it wasn't consistent at all so I'll say that I failed to achieve this goal. Will try better next time so my body won't be complaining later on. Hehe
Lately, I engaged myself with videos and some readings that I think would widen my vocabulary a bit. However, I'm still not sure if I really achieved this goal since even though I encountered some unfamiliar terms/words, my memory isn't super sharp to remember all of them. With that, let's give it a 50-50 rate. LOL
---
I am so glad that I achieved most of my simple goals this month. I'm not going to include the amount of BCH I accumulated because honestly, I haven't seen it yet as I'm afraid to open my wallet since the market is bloody red.
However, no matter how dip the price of BCH is, let's just focus more on the amount of satoshis we accumulated instead of the price because there will come a time that it will pump as high as it was back then.
For the next month, I won't be setting an specific goals but I'm still going to be active here and on the other platform (noise.cash). Aside from that, I will also find time to explore Hive and try to increase my reputation their by interacting more and publishing contents as well.
That's all for this month. I won't take this any longer and yeah, let's grind more for the next month. I hope, it will be a better month for everyone of us.
---
Author's Note:
First of all, I want to say thank you for leaning your time to read this article. I hope, you gained valuable knowledge from it that may help you in whatever aspect you have there.
Second, thank you for those who are supporting me in my journey here. From my readers, sponsors, and friends, thank you for always being there.
Lastly, I hope we will all have a prosperous day everyday, and a life full of blessings f rom above. Godbless us all. ❤️
---
Date Published: June 30, 2022
Lead Image and GIF: Originally edited in Canva