Tanzania is a East African country with almost 60 million population and 2650 square kilometres area. It got sovereignty in 1964 . Kenya , Mozambique and Rawanda are in neighborhood countries . It has most wildlife hives and resources in Africa as it has biggest national parks and natural forests.
Samia Suluhu Hassan , known as Mom Samia or Mama Samia in her country Tanzania. The word Mom shows the love & respect of people towards her personality.
She born in 1960 on a coastal area of mainland. Her childhood was not so bright due to lack of facilities in the area. Later they moved to Island and there she starts her education. She is graduate of public administration and have masters degree in Economic development from Manchester university , England. She married with Hafiz Amir in 1978 and have four kids .
The history of African continent is not so richer in terms of female political legands . Few got good luck and reached to the head of state . Monigue , Catherine , Ruth Perry , Ellen , Sylvie and Ameena are examples.
Samia starts her political career in 2000 when she hold public office first time . Ministry of youths , planning and much more she did in next 14 years. She elected chairperson vof the house in 2014. She wear the crown of president recently and become first ever lady president for Tanzania.
According to her mates , colleagues and opponents " she is most capable lady in current scenario. She is punchual , hardworking , honest and a visionary Lady. Yet her policies will come as president but her previous role shows the mindset and interests. Especially in economic reforms , wildlife infrastructure , Corona threat and unemployment are main focused areas.
In her recent interview with BBC she confessed that " in 2010 i decides to step down from public office after threats to my life from different sources. I was mentally ready to save myself and save my family. It was a critical time in my career but my husband encourage me to stand up against that groups and not to surrender. He give me enough braveness to serve my country.
She added" it is hard for a female to survive in politics especially male dominated society.
In her first speech to nation , committed to freedom of speech , press independence, better working relationship with opposition. Actually she comes from very grass root level , understand the problem of common people and knows that can't bring prosperity alnoe . So She wants Tanzania a good thumb on globe.
She is amoung very few politicians who never named in any kind of corruption. Even her opponent also admit that . She is best communicator , humble and brave decision maker.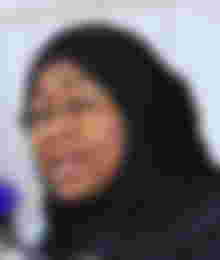 Previous president Remarks :
"I hope Tanzania will achieve some huge landmarks in her tenure. Because she is a compititive lady with high quality vision"
I choose this lady as a inspiration model . She fought against male dominated democracy and being a lady proves her worth and leave a example that by doing hardworking sincerety and determination with a cause can lead you to a highest rank. Even you are a girl , no hurdle can stop you to achieve your destination.
Thanks for reading.
Amjad_Ali_waince
Sponsors of Amjad_Ali_Waince