The Road Less Traveled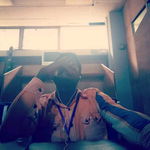 Today, I have decided to take a road less traveled by writing about things I don't like even though other people do them (knowingly or unknowingly). We all have our likes and dislikes as well as our individual personalities and habits, No one is perfect. We must understand that and learn to live with it and accept each individual as they are. Even with all my shortcomings, imperfections and bad habits, I have always found some things weird or inappropriate when other people do them.
Perhaps, other people find it weird or inappropriate when I do certain things I may find normal or is my habit too. What can I say, I believe one thing the university has taught me is how to co-exist with people from different backgrounds. In this, my patience and tolerance level has increased quite significantly, as I have been exposed to different people with different habits and personalities.
Some time ago, I saw a post on Instagram and I remembered it today as I was watching a movie on TV earlier. So, for fun purpose and perhaps, an opportunity to know me better, I have made a list of common things people do that doesn't seem appropriate or that I am not used to:
Soap Lather on The Bathroom Wall
For as long as I can remember, I have always found seeing lather on the bathroom wall or anywhere in the bathroom irking. Anytime I go into a bathroom and see soap lather on the floor or on the wall, I usually just wash it off before I start bathing. when I am done bathing I wash off any lather I set my eyes on, as I usually make the conscious effort of looking around the bathroom before I go out. Lather has a way of staining the wall when it dries up. So, cleaning it off is better, don't you agree? Hahaha. Cleaning it off too can make your bathroom look clean for long too.
Using Toothpaste
I absolutely have no problem with using toothpaste, as I use one every day. What I do find strange is people not pressing it from the bottom. Growing up, there is the impression that those who press toothpaste from the bottom are probably poor and want to use every paste they can squeeze out. But, I can't imagine pressing toothpaste from the middle or close to the opening of the tube and seeing it go in two different directions. I guess now that there is a toothpaste dispenser, it doesn't matter right?
Taking Things From Crates
It is usually weird when I want to carry eggs and see that someone else didn't follow the order with which the eggs have been arranged. I usually follow the other when taking eggs or drinks from a crate and if I meet that the order has been disrupted, I arrange the eggs back. Hahaha. Not just eggs though, I like to follow patterns in which things are arranged taking them one after the other. Someone once said that I am showing symptoms of Obsessive Compulsive Disorder (OCD) what can I say.
Leaving The Volume on Even Number
I must admit that I find this very weird. Whenever I need to increase or reduce the volume of anything, as long as I can see the number, I always leave it in even numbers. I am just uncomfortable leaving it on an odd number and I really don't know why.
Sleeping With Light
My eyes are very sensitive to light, so I tend to squint a lot when I am out and it is bright. It is probably why I like the room dark and the brightness of my phone is almost always at the minimum. I find it hard to sleep whenever the light is on, even if there was no power and the bulb switch was on, if the power comes back on, I will wake up because of the light. It is also one of the reasons I find it hard to nap during the day. So, when I came to the university to see that my roommate was my opposite there was a problem. He always sleeps with the light on, and even if there was no power, he turns on the lamp or his phone torch. Oh well, Over time, I have learnt to adapt to sleeping with low light compared to complete darkness.
Conclusion
Adaptability is one of our characteristics as humans and we eventually become tolerant of others too. As I said, no one is perfect and we all have our differences, likes and preference. It is this variation that is key in our evolution as humans and also what makes us unique in our own way.
Perhaps this can become a new prompt, as I'd like to know what it is that ticks you off but it is normal to some others or they have issues with it. Not sure if I should mention anyone, but feel free to participate if you feel it is worth writing about or you want to let us know.
Thank You For Reading 🖤🖤