A Little About The Major Ethnic Groups in Nigeria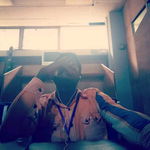 I was born in Western Nigeria, Lagos state to be precise. I have often caught myself wonder if my life would have been different had I been born in any other part of the country. Bearing in mind the effect of the environment in one's development. Lagos state is not my state of origin, but I have spent most of my life in Lagos, so you can practically call me a Lagosian; since I can contest for The Lagos State House of Assembly according to the law 😂😂. Don't mind all that talk about politics, I am not a politician.
There are three major ethnic groups in Nigeria, they are:
Even though I have spent most of my life in Lagos - a Yoruba state - I have heard stories and observed people from different ethnic groups as Lagos is a land for all.
HAUSA
They are the most populous ethnic tribe in Nigeria. Also, their states occupies most of Nigeria, extending from west to east of northern Nigeria. They are known for their simple life, they are hard working, and most of all often dark in complexion. Arguably the tribe with the highest number of wealthy people. Well, that is no surprise considering their population, you'd expect them to have a lot of people on both sides. It is worthy of mention that most of the food consumed in the country is produced in the north. Also, there is a common belief that to win election in the country, have the northerners vote for you. Islam is the predominant region of the Hausas. Although, there are many tribes and cultures in the north, southerners tend to see them as one and the same. This sentiment is shared by then too, it is a common thing here in the country. Haha. Food such as Tuwo shinkafa, suya, Kilishi, among others belong to the northerners. I have always considered the Hausas to be honest people, and always take their word for it. But, times are changing, it would seem one can only trust themselves these days.
It is popular to hear people say that they are the brutal, and their sense of communism is like no other. If you can speak the common tongue, you may get cheap beef when buying from an Hausa man. I would liken them to the Chinese people become a similarity they have in creating mini villages for themselves. Think of Chinatowns in different cities in the worId, that is how we have Hausa communities in different parts of the country. Although, I must say that I often see then like the Nigerian Indians because of the similarities in their cultures.
IGBO
Mostly known for their eyes and keen sense for business and love for money. In their defence, I don't think anyone hates money. Their states occupy the eastern part of the country and they are considered the smallest of the three major ethnic groups. Well, one can argue that the civil war which took place between 1967—1970 wasn't kind to the Igbos. Some people have described it as genocide, but that is not the topic for today. I had mentioned them in my article We Rise By Lifting Others and how their strong sense of community has been one of their biggest strength. They are known for food like African salad, okpa, fufu among others.
There is a common joke that to identify an Igbo woman, just look at her children for beards or the size of her leg. LoL.
YORUBA
Arguably the most educated tribe in the country, there are known for their love of party. Believe me, I don't think any of the other ethnic groups party like the Yorubas. Known for their respect of the elderly, their states span across the western part of the country, from the Northwest down to the Southwest. It is said that the tribe spreads across West Africa, from Nigeria down to the far away Ghana. Their most popular food is Amala, and ewedu with gbegiri. Even though I don't find it appetising or even appealing to my senses, people from different cultural backgrounds have confessed to the magical taste of it.
They are considered the lazy tribe and the loudest too. They say the strongest Yoruba person is the one with the loudest voice. There is often a common joke in Lagos that if you want an elaborate wedding ceremony without spending a dime, just get a Yoruba girl pregnant and watch her family members sponsor your wedding.
One may wonder which of the tribes I belong, well, my tribe is one of the minor ethnic groups and found in the southern part of the country. There have been different stories about which of the major ethnic groups we can identify with, but I am not here to bore you with the details.
I will put my pen down at this point and call on my fellow countrymen and women to add or subtract a thing or two from all I have said.
DISCLAIMER: This article was merely for entertainment and learning purposes, aimed at tickling your sense of humour, particularly my fellow compatriots as well as sharing a thing or two in the process.
Thank You For Reading 🖤🖤