Are you proud of what job your parents have? Did you felt shame when someone mock you because of your parents job? How will you defend you parents when someone laugh at them? Will you fe disappointed or be grateful despite of their job?
***
The teacher gave us an assignment last week and we're going to share it today in our class.
"Class, are you done with the assignment I gave you last week?" Ma'am Shane asked us.
"Yes, Ma'am!" We responded.
"What was your assignment again?"
Dianne raise her hand.
"Yes, Dianne?"
"It was all about our father's work with picture of them working." Dianne answered.
"Okay, very good! So, let's start!" Ma'am Shane said so lively and clap her hands. It seems like she's excited to know what are our father's job.
"We'll start here in the first row. Okay, Janine, you will be the first one." Janine stood up and went to the front. She smiled at us before she start talking.
"My daddy is an engineer. He's working now in Hong Kong and will have his vacation every last week of the month and went again there with in the first week of the month." She continue to explain while holding a picture of his father wearing his uniform.
Next to her was Charlene , then Joven and so on and so forth.
"My daddy is a policeman."
"My daddy is an architect."
"My daddy is a seaman."
And I heard any kind of work of their parents. I learned that their father are all professionals.
There are Business man, pilot, engineer again and many more. And it was my turn to say what my father's work is.
I am stood up slowly. I am trembleng while waking to the front. I face my classmates and look again to our teacher.
I sighed before I slowly race the picture I am holding. I show it to my classmates. When they saw the picture, they laugh out loud.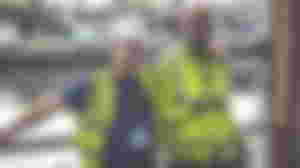 "Hahahhahaha."
"Hahahah Oh my gee."
"So cheap! Hahaha."
"Class! Quite!" Ma'am Shane told them to stop and nod at me, a signal that saying I should continue. She smile at me and said "Go on, Lyka. It's okay."
When I saw here genuine smile, I felt comforted and felt encouraged by her smile. So I faced again my classmates. I am now ready to tell them that I am proud that my is a CONSTRUCTION WORKER.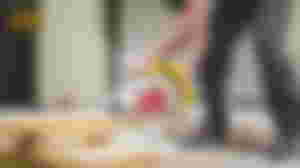 "My Tatay is a Construction Worker." I said to them smiling and they laugh again.
"Tatay? Hahaha!"
"Construction Worker? Hahhaha."
"Yes, you can laugh at me but don't laugh at my father's work." They stopped laughing when I said that words.
"I know that your fathers are not the same with my tatay. Your father are professionals while mine is not. We are poor,yes. But my father's work is not illegal and bad. It is a work with dignity. Construction workers are important in our society. Construction workers are making buildings strong foundations and making houses. Without construction workers, you don't have a house to live now. Being a construction worker, my father able to raise us, his children, and able to hive our daily needs. You might all think why I am in this prestigious school behind the fact that my father is a construction worker. I did my very best to enter this school as a scholar. And my father is the one who sustain my needs in this school. Awhile ago you laugh like you are all mighty, it doesn't mean that my father is a construction worker and we are just poor, you have the right to stepped us and laugh at us. You laugh with those criminals like those snatchers, just don't laugh with my Tatay because he's working in the legal way. I am proud of my father and I am not ashamed for him as a construction worker. In fact, even if he's not a professional, he works like one. Without him, I am not in here." I look at Ma'am Shane and said "That's all, Ma'am. Thank you." I smile while walking towards my sit while my classmates are looking at me.
Ma'am Shane smiled and clapped her hands and my classmates did the same.
"Very good, Lyka. You should be proud of your parents. You should not be ashamed of them because you're not in same level with the people around you." Ma'am Shane told us.
And because of that assignment, I got a perfect points because I was proud of my father. I am proud of him being a construction worker.
***
Reflection:
Same with the Lyka, my father is a construction worker. Ever since, I never felt shame that my father is a construction worker, instead I am so PROUD of him. He may be not a professional and no degree, for me my PAPA is a professional one. He don't have a certificate of accomplishment but he have lots of houses he made. Everytime I saw those houses, I can say that he is like a professional one when working. Who would have thought that a second high schooler person would able to estimate, plan and build a house. A concrete house. I am proud of him cause he is able to give us food in our table. He never let us hungry despite of our situation as a poor. He make his best for us. He is able to support our studies in his own way.
Someday, I will be able to buy him construction tools. For now, he have his tools which he had from his salary. Everytime he have work, he will see to it that he will buy a souvenir from his work. Now, he have his collection from his hard work.
I am so proud of my father for being a good construction worker. He is a known man in our town for having built lots of houses. Many engineers went to our house to have contact with him, but he wasn't signed any because he's afraid of living away from his family. Many engineers have said that they'll support him to go to abroad, but my father declined. He said that he can support our needs without going anywhere away from us. And true to his word, he did all his best for us.
I am proud of my father for being a CONSTRUCTION WOKRER.
How about you? Are you proud of your parents?
Cover photo from Unsplash