Weekend once again, and we're near for the festive holiday, the spirits of Christmas is everywhere, and this season is a great way to express how we care to everyone, I know we must show our care everyday but this is extra special that we really feel the spirits of love and sharing for all. So am greeting you all in advance a Merry Christmas.
There are times in our life that we feel so down, like the other night, I dont know whats on me that I feel so down, irritated and very hot tempered, I almost cry saying sorry to Adrielle coz I did not focus on her, I feel so worthless, and there are many things that keep running on my mind pero ndi ko mahabol(charr), but seriously, really a lot of things keep bothering me, and it last until the next day, thats why I made the this article how-stressed-affects-our-behaviour you can visit it here to see how down I was that time.
But today I feel so good, tho nothing important happened but I feel so light, the things that bothering me the other night was still there, but I can keep them aside now. Eventhough we woke up very late but still I manage to do my chores before high noon, and after lunch, we take our rest and supposed to be a powernap but Adrielle can't sleep and she almost cry and keep rolling to get some sleep but she cant, so I let her play instead of sleeping, as I can her struggle of sleeping, so we just lay in bed and play, thats why I did not make my article right away, coz her powernap is my rest too and my read.cash time.
So since we can't go out and play,coz of the bad weather, we just stay at home and is playing here inside with her toys, and while she is busy with her toys, I tried writing this article and, I finished it.
---
One thing I learned is, if we feel so down or weak let this emotions flows, we can cry, talk to God and write in a paper or share with a trusted friend in that way the burden we are carrying will be light or easy even for just a while.
I can share you a part of a song that will help us if we are feeling so down, I dont know if ny lyrics is correct but the message is perfect. This is a Christian song titled LIFT UP YOUR HANDS
🎶Life is not at all bad but my friend, If you believe in yourself, if you believe there's someone, who walks through life with you, you'll never walk alone, just learn to reach out and open your hearts, lift up your hands to God and He shall show you the way.🎶
---
This is my article for now, anyways thank you for the pieces of advice, comments share some opinions last time, it really helps.
Flexing my sponsor before I end my article, you can visit them if you have spare time.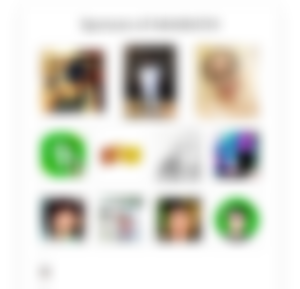 Thank you for reading!
God Bless Us All !
🌹Annie Marie🌹
2021.12.11