My sunday rant
August 7, 2022
It was last week, when ny neighbor buy a new motorcycle, because thier old motorcycle is not starting up anymore and motorcycle is the cheapest and easiest way for them to be at work since they are working about how many kilometers from here as school utilities.
I dont have any problem with that because its thier money they spend to purchased it, even I have money issues wayback with the family, I never really cared at all anymore(wala naman yumayaman sa taong mapanglamang sa kapwa diba)!
Maybe, you'll wonder, whats my problem , why I am opening it here.
So this is my issue now.
Lastnight we arrived home late, around 9pm and I saw their motorcycle was parked in our terrace, and what makes me feel more angry is that the motorcycle almost block our way to our doorsteps(imbyerna tlaga), so I keep on talking and my partner just told, i-uurong ko na lang.
So this morning, I am expecting them to remove it here, but none of the family members initiate to get the motorcycle, so I waited patiently and right after I took my shower the daughter passed by amd I was waiting for a few words coming from her about the motorcycle but she said nothing and just passed by. Then I waited for her again to return, and there I saw her again so I initiated to telll her, Nica, lipat mo na ung motor sa bahay nyo(Nica, please transfer this motorcycle at your house). But she replied me, that the motorcycle has no diesel and theu are still waiting before they can get the motorcycle. My gulay naman bumili ka pa ng motor kung wala ka naman palang panggasolina diba, and she walk towards home, without even asking for pasensya na or whatever.
Then, the second to the youngest came and I told him na i-uwi na motor sa bahay nila dahil ibebenta ko yan, abay sabi amin yan ah, kaya nga i-uwi mo na sa inyo, ang sagot sa akin dyan daw muna yan kasi walang ano sa amin. Sabi ko ndi pede kasi wala ng laruan si Adrielle, kaya sabhn mo tanggalin na dito.
But as of this writing no one from the family initiated to get the motorcycle infront of our doorsteps, kaya talagang imbyerna ng linggo ko.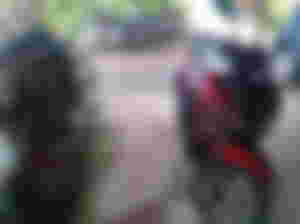 Look at the picture, the center part is only part where we can walk and Adrielle play if they did not remove thier motorcycle here, imagine napakakipot, to think that it should be a wide area to play for Adrielle but since the land where this house built was from our neighbor so they make the terrace area to be parking lot for thier car and motorcycle and I can't argue on that part since they own the land title, but when it comes to other neighbor who will be using this place as parking area, I think I need to do something, magalit na sila kung magagalit but I know I have the right to disagree with what they are doing diba, since kapitbahay na lng naman sila at they have thier own terrace, may tagiliran at may likod din sila para ipark ang motor nila, its not our problem anymore if walang bubong, nakabili nga sila ng motor diba.
==
Sorry for these rants, I just want to release this feeling I have with me coz I really felt bad the whole day coz they dont have any consideration with others also, all they want is only their benefits.