Busy day ft. Atchara making
October 20, 2022
Woahhh, its thursday and weekend is there waving and I will be busy on that day because of the wedding that we will be attending, time flies so fast, it was last month when Adrielle became a flower girl and now here we are again, she will be a flower girl again this coming saturday but this time it will be held in the reception area quite far from here so, I need to bring here extra clothes.
But before the wedding day came, let me share with you what we did today that keeps me or us busy.
Early in the morning, I was about to ask my neighbor if what time we will be going to the house of the groom to help with some activities, when the grooms Mom sees me and ask me that we can start now, but I told her that I will do my chores in the house first and after Im gonna help.
Around 8am when I went there. First we did was the ingredients of atchara. ATCHARA is made of grated papaya, with vinegar, sugar, raisins, ginger, carrots chili,salt, and garlic and combine them together and voila you have atchara. Atchara is used as side dish especially if your viand is fried and meats, and in every wedding this is one of the great side dish since most of the viand are meats and and oily foods, we used it for pang tanggal umay.
Making Atchara is not an easy peasy thing, its my first time to see how it is done, my arm almost sore because we grate one big basin of papaya, and my finger gets a wound when we are about to finish, because the papaya slip over at the yayadan and ung daliri ko ang nayadyad, and after I did not help at all because it did not stop bleeding even its a small wound only.
After we grate the papaya, we put salt on it and combine it well so the papaya becomes soft(sabi ng experts gumawa),then put it in the moqsuito net and inside the dryer and spin it 2times to remove the substance it contains(ang galing tuyong tuyo nga).
Then we mixed it with other ingredients and tasted it and wow its so perfect, the sweetness, sour a bit of spicy and the aroma very enticing.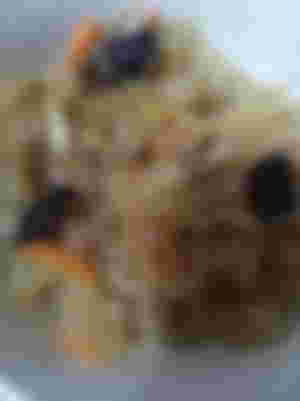 After the making of atchara,its lunch time, imagine how time flies so fast only one appetizer we finish amd we consumed half of the day, after lunch we go home and we take a bath, coz we never take a bath before going there.
---
I think I should cut it here, since its long sharing already, maybe I can write the making of suman tomorrow para may topic na ako tomorrow hehe. I need to havea backup since saturday is a busy for me.but lets see if I have another topic for tomorrow.
For now, I'll be heading to bed coz I feel sleepy and bit tipsy too, and the lil girl fall on sleep already while watching tv and holding her toys.