Another milestones
September 20, 2022
I woke up with a gloomy day, but later on the sun did shine a little so I put all my hanged clothes outside so atleast it will be dried up.
But before the noon time came, the clouds starts to form and as dark and as heavy that it can be handle and I picked up all our clothes outside and after 5 minutes the strong rain poured out.
And up to this moment, still its pouring down, not a continuous rain but as soon as it poured you'll worry that storm is coming.
Anyways my article is not about the weather condition today but the new milestones as writer here.
Its been very long time since I recieved a notification from the readcash team about the new milestones as being writer one reason maybe is because I felt demotivated too before after the bearish market and rusty coldness to the writers.
But after being demotivated and almost lost my track in writing, I encourage myself to get back on track because readcash becomes part of my day, even I dont feel like writing, but I want to read the work of others.
While reading others work, I ask myself why they are not giving up even rusty became cold considering they stay longer than me, sigh. Then here I am just a year user and now almost demotivated because of the bearish market.
After that realization, I compose myself and get back to writing, I convince myself that its ok even rusty will not that generous as long as he will not forget me and I wil be happy with that.
Here after being motivated and getting back on track, I unlock the 10k views on all my articles, I know its not much as being a year user or readcash, but I dont care as long as I am doing what I love to do. I know there are some users here being criticized by others on how they deliver thier article, but I am lucky enough coz I never bump with that user and hoping now to bump anymore. Coz I can only tell him/her one thing. If you dont like my article you can skip or unfollow me and thats all I thank you.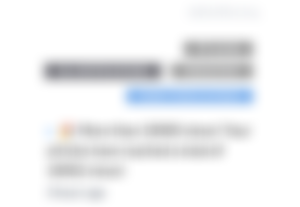 Moreover, this milestones are just a simple motivation to continue what I started, even I joined other blogging sites like blurt and hive, my love for readcash still the number 1, because without readcash, I wont be able to meet different people around the globe and meeting those people leads me to the new doors.
But even I have more options now, the number in my heart is readcash. I can't juggle my time being active in all coz I have my duties too and I set a time to take a break from using the phone, but keeping away with readcash in a day is not on my list. Thats how I am faithful to my first blogging love readcash.