Materials:
1 young dab,

1 cup of shrimp,

Garlic 3 Kwa,

4 raw chillies,

2 teaspoons of poppy paste,

Half cup of mustard paste,

Half a cup of mustard oil,

A little yellow guro,

Like salt to taste.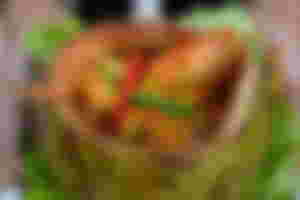 Method:
Add salt and turmeric to the shrimp and lightly fry it in a little mustard oil. Now remove the fish and fry the raw chilli in the pan with a little more mustard oil. Now mix well with poppy and mustard paste. When it is a little fried, mix it with the fried shrimps. If you need, you can give a little water. Then cut the mouth of the coconut and take out all the water and put the shrimp mixture inside the coconut with a spoon and mix it well with the coconut shell. Cover the mouth of the coconut with flour. Bake in the oven at 200 degrees for about half an hour. If you want, you can also burn coconuts in coal fire. Remove the dab from the oven and serve hot.