When Do Love Begins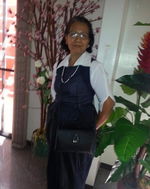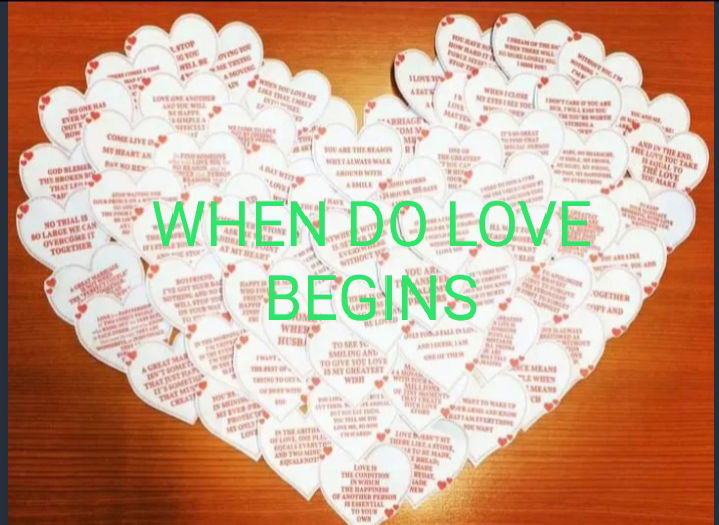 I have heard lots of love stories when I was young, still knowing what love in its truest meaning to any individual life really means.
I only had such simple understanding of what love is all about time after time.
The simplest form of how love begins can come from simply liking each other's company. Giving him or her the preference or your first choice to be with among others in the circle of friends.
There's a mutual feeling of happiness inside you when together even you are just talking to each other, or even just seeing each other in a gathering with friends like outings or any occasions that calls for a celebration.
With such kind of mutual feelings going on in the process of time which develops or grows into a more closer relationship like friendship both will begin to like each other more. Emotional attachment will have its start , deciding to give more time to each other than anyone else separately with the group of friends while having them around.
Enjoying such companionship being such a mutual feelings create some inspirations and motivations to change unfavourable character or ways just to maintain each other's feelings of mutual companionship. Improving oneself in grooming and likeableness is being enhance to keep going in such mutual feelings and understanding.
Likes and dislikes being discovered at times of companionship is handled with much compromise just to please each other. Tempers and tantrums that happens between them will not be so great an issue to be left unsettled within a day. It will not be left unsettled or let it go for so long to get it worst. Though at times misunderstanding happens because it were triggered by differences , pride will not creep into the heart and mind to spoil the day of being together. Honesty is much regarded so as not to ruin the peace they are enjoy of being together.
Compatibility inspite of differences is developed as time progresses and as relationship become closer and deeper being yet but friends with mutual understanding.
And as they mature in the process of time, they begun to value each other , being as clear perspective to make each other to be the one to care and to love, to cherish until the right time came to make a vow of love and commitment.
For a love to begin and to grow in its truest sense it must have a good start by both parties involved. It must start on the mutual feeling of happy being together in the presence or even in absence of both.
Having a constant and honest communication while yet being friends allows a comfortable and workable social status in the realm of suitable and compatible, companionship in the future.
Likes and dislikes, tempers and tantrums being displayed as natural as it can be during friendly relationship will create adjustments and understanding in facing situational realities , in view of a future commitment to be decided upon.
True love just not pop up in a moment and shrink afterwards due to some pressures. Love grows at the process of time with or without pressure from within and without. And when it grows at the right time and with the right person it will bloom and will give the kind of fruit which is true love in its deepest sense.
The most common mistake that every individual usually make is being too impulsive and too emotional at the very start. The focus is much more on the feelings and not on how to handle the feelings to be more accurate if it is real or not.
As a result of mishandling such feelings as too good to be true love end up to unfavorable and hurtful situations.
As a reminding remarks to close, let our minds thinks first before giving in to what our hearts dictates. We were created our head is over and above our heart.
#3 Article for the month of February , ❤️❤️ When Do Love Begins
Feb. 10, 2022 - Thursday - 7:00 am