True Love's Role in good and lasting marriage relationship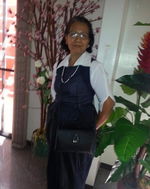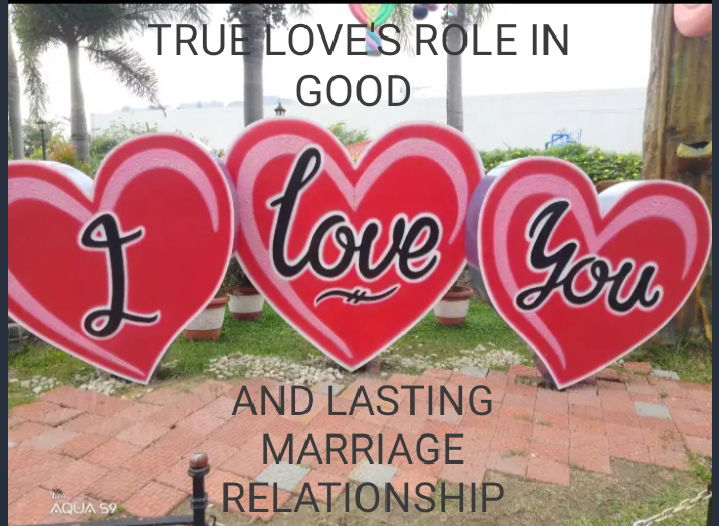 There are many kinds of relationships that every individual can be entered into, but I will be sharing my personal thoughts , insights and observation regarding love relationship between man and woman considering a life time partnership, called marriage.
During my high school days, I had classmates who started their courtship during our third year , until fourth year .After fourth year , when we part ways, I have no more knowledge how their love life goes. But because I joined the group where most of my high school classmates and friends are members, I learned that those classmates which had their love life started during third year high school, these two couples managed to have their love life culminate in marriage and is happily married with children. This just proved that it is possible that love which could start on a teen-age life , and is given chance to let it grow and mature by taking steps of knowing how to take care of such feelings can grow and mature to true love, and finally culminate in marriage.
There are really those who were able to maintain their love relationship against all the odds in life that they have gone through.
There's only but one among many qualities possessed by a person that will enable a relationship to withstand the tests of time where struggles and complexities of situations in life faced could eventually survived.
And that one thing I know is TRUE LOVE. When a person is possessed by TRUE LOVE, he or she is determined to fight for the one he or she loved no matter what it takes. just to be with him or her all through life. Nothing will separate them or will they allow to ruin their love relationship. Both will be willing to sacrifice anything for the sake of the love relationship that bonded them with TRUE LOVE.
What then is TRUE LOVE? This is my personal thoughts and insights.
TRUE LOVE is best expressed not in words but in actions, proving the integrity of the words spoken. It takes a wise and responsible actions.
Any woman who hears a suitor saying ,I LOVE YOU, was so pleasant to the ears. especially when it comes from a man , whom she finds so attractive to her, or she liked because of his characteristics that she wants to have as a love partner.
On the other hand , A man whom the woman accepts his love , also saying I LOVE YOU TOO, will be the sweetest words to hear from someone loved.
Having both deciding in choosing each other's Commitment in love, based on trust and honest words love goes on smoothly for weeks, months or even years.
As time passes by in a love relationship, both have time to know more about each other. In such time , both will learn many things and will have time to think if they would be compatible or not. Many things will then be put into considerations , before getting involved in a more deeper relationship . It is because, a person can say with all emotions I LOVE YOU, and even will swear , but no significant efforts will be done at the moments it calls for it. When problem arises that hinders the love relationship to grow, it is easier to choose the path of giving up and just find another to fill in the empty space in the heart . Because TRUE LOVE IS ABSENT , giving up is always the easy way out in the relationship.
It's a reality that no two individuals are alike. There may be some qualities that a couple could be the same but still there still exists to both some differences in.likes and dislikes and preferences.
These qualities cannot be easily learned or detected at once. These can only be discovered during courtship, dating as a group, in different occasions or events, which would allow certain situations favourable and unfavourable, wherein actions , responses, interactions are freely executed unaware. And these could mean honest & upredictable discovery.
A couple awareness of these facts between them would lead to their consideration, whether they could go with it or by it in their relationship. If both would feel they could handle it well, and will understand and forgive then love is able to grow and mature till true love to both can be said had it's perfect work between them. They can be able to accept each other flaws willingly . TRUE LOVE WILL OVERPOWER ANY NEGATIVE VIBES.
Maintaining a good relationship is not a one way means of handling. It is a two way process of handling with willingness love and respect.
TRUE LOVE creates ways and means to overcome Negativities in life's complicated situations.
TRUE LOVE see the good qualities done out of love , above or more than the flaws.
TRUE LOVE can tolerate above limits such irritableness created by differences.
TRUE LOVE can compromise , or can reconcile issues of things , were both disagree because of likes and dislikes involved in it.
TRUE LOVE forgive and forget mistakes committed intentionally or unintentionally. It setttles a matter of grievances not to last long.
TRUE LOVE focus and supports truths, honesty, peace, and happiness to achieve in a relationship rather than secrecy , solitude, and grievances.
TRUE LOVE knows how & when to limit to express itself. It does not keep records of the wrongs or mistakes. But keep cherished memories of sweetness and love.
TRUE LOVE set aside too much expectations for it will only create discouragements and insecurities .
TRUE LOVE is strong in believing each other inspite of negativities and criticisms . Its constraining power never neglects or ignored even simple things to.make the one loved feel secured and protected at all times.
TRUE LOVE stays together , prays together, support each other, inspired and motivated each other, meeting every needs emotionally, mentally, physically.
TRUE LOVE shows value , honor, respect, and integrity to the one loved and whom they both loved .
Marriage is a lifetime commitment, in which vows are made before God and men.
Marriage won't survive the test of times , differences , flaws, situational problems and difficulties without true love able to give to each other.
My final say:
A person who is possessed by true love, looks and hold to the One, who is above all, to God we believe in , who is able to help and sustain true love to exist in the hearts of people whom He binds in vows of love to each other. Once it is sustained it will continue to be expressed and is maintained.
To deny true love and it's expression is not being true to self and others to whom it is due or deserving. It is being selfish, and worthless.
To deny TRUE LOVE exist is equal to denying God exist, because God did exist. His existence proved the existence of Love because God is Love. And it is because of Love that we exist. He who Truly Loves have known the Love of God and God's Love dwell in that person.
If you feel that True Love, and find to whom it is to be given expressed then proved it in a responsible, honest actions not just in words.
#5 Article for the month of February
Feb. 16, 2022 - Wednesday - 9:22 pm