My Spiritual Journey(Part 6)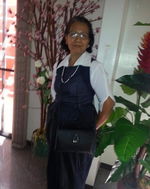 The Last Farewell from a loved one that come unexpected is related to my husband. And since it was unexpected , I was not prepared for it. This was about his death.
Though I know life is uncertain, and death is sure, and we know not what shall be on the morrow , as the truths taught in the Bible , still I was caught unprepared with the situation. But I have to face life in its reality.
Looking back , before the unexpected death of my husband, he had symptoms of not feeling well . He had dizziness that was neglected to put some considerations . He put off going to clinic for check up though I constantly reminded him to do. He was so busy with thinking of what is more important in a day to tackle until the attacked of a high blood pressure came to him that he was at once in a comatose condition.
With the help of my brother in law, who was our neighbor we rushed him to the nearest clinic in the town proper which is fiftten minutes or more travel. When we arrived there his blood pressure was taken and it was 200/100. It was his first attack. He was given the first aid, and we were told to bring him to the hospital. Since the municipal hall is nearby we asked help to get an ambulance and we were given help and brought my husband to the hospital in Cabanatuan City, which is 1 and a half hour travel. It was the first time in my life to ride in an ambulance. And I then realized how does it feel in that kind of vehicle with a patient who is dying. The feeling was so terrible. I found myself praying to God repeatedly for the survival of my husband, who was still in unconscious condition when we arrived at the hospital.
In the emergency room, the doctor who checked him up, told me that my husband is in a worst condition, that he is in coma and anytime he would die. But he still gave me prescriptions of the medicine needed which I bought at once .
I availed what the hospital drug store could give me even without payment but not all the medicine were available and I have to go outside. I don't have enough money brought. Actually I just borrowed it from my brother in law . We had money but that was for our tithes and offering which my husband kept and I don't have much time to search for it . I was given the needed the medicine on the drugstore outside the hospital. The owner agreed to give me all the needed medicine even without paying it in full. The owner agreed even with just a promissory note.
The hospital available room only was in payward only. By faith, I availed it for my husband. He was in oxygen and in dextrose that time and from time to time monitored by nurses and told me what should I do while waiting for the resident doctor to check him up.
While there with my husband's side I talked to him. I was very near his ear and just talk and talk to him . Accdg. to others, patient in coma can still hear so I talked to him.
I talked to my in laws here and abroad regarding my husband's condition. I feel they are entitled to know everything. My husband then was still unconscious. Seeing the slowness of treatment to my dying husband , I decided to take my husband to other hospital in Manila. When the resident doctor then arrived I approached him immediately and talked to him and he told me many things that made me to decide just to let my husband stay. My husband was checked and given further treatment. I still talked to my husband telling him to still fight for we needed him. As I talked crying , for I cannot refrain myself crying, I saw there was also tears coming from his eyes, that I cried the more. And I whispered in his ear, if you can't bear anymore the pain, then have your rest, because God will take care of us for sure and don't anymore worry for us .
Having it said and his reaction of tears flowing , I went to the nurses' station and requested to check up my husband and they did. They checked on his heart and monitored it . I saw from the monitor how his heart beats going down until it gets flat. A nurse aide gave him CPR but his heart failed to beat I saw from the monitor it's a continuous flat. I just then stop crying and accept the fact that he left us and went home to the Lord.
I then called her bros. and sisters about it. And they came to the hospital and found him in the morgue . We decided then to take him to Manila . My in laws made arrangements on how to transport him from hospital to funeral home in Manila.
I did the arrangements of papers for his released in the hospital. There was someone who came to me that helped us with the hospital bills. He said he was from the government agency from which helped in settling hospital bills can be availed.
So that day, Dec. 3, 2014, we travelled going to Manila to Eliseum , the funeral Home to take care of my husband. It was my in laws who took care of everything on how my husband's wake will be held, what he would wear, and his internment as well, in Manila North Green Park, in La Loma, Quezon City while I go back to Nueva Ecija with my eldest daughter to have the necessary papers needed like the death certificate coming from the hospital and papers related to my husband's internment in Manila.
I decided that my husband's wake was in Manila, for it was near to our relatives and closed friends and acquaintances in church were our family were members of.
By God's grace and providential care all went well for my husband's wake and internment . To be honest , we have no enough money to spend for the expenses of it all, but God sees to it , that all were provided. God worked in the hearts of loved ones and brethren in the faith to help us financially.
From all of my past experiences in taking care of my loved ones before they died, I find myself easier to accept their departure. And maybe the reason why was, I have taken cared of them well enough . And each day as I took care of them prepared myself for anyday at anytime that they will die. And seeing them in pain, and get tired and weary in their condition you would want them to rest in peace .
So when my husband died after just a day after his attack, it was very painful for me. Because I am not prepared by heart and mind for his early death. Sorrow and grief overwhelmed me. I just comfort myself with God's promises to all believers written in the Bible.
Death is the means to go to the life hereafter.
Death is the Last Farewell of physical life but the beginning of the spiritual life to be lived for eternity.
Death is an appointment with God to meet Him face to face and to be with Him eternally.
Death is to rest in peace , because Christ is our Peace and our Salvation who prepared a place in heaven to anyone who accepted Him as Saviour.
#2 Article for month if June, 2022
My Spiritual Journey (Part 6)
Last Farewell
Published:June 2, 2022
Friday - 11:17pm